Xiaomi is the king of smartphones in India for IDC 2018
The tremendous progress that Xiaomi has made in the smart phone market in India becomes the center of attention once again, and all thanks to the Quarterly Asian / Pacific Telephony Tracker of International Data Corporation (IDC) that ends to be launched. The published data revealed an interannual growth of 14.5% in 2018, due to the fact that the industry sold around 142.3 million units and most of these came from the Xiaomi offices.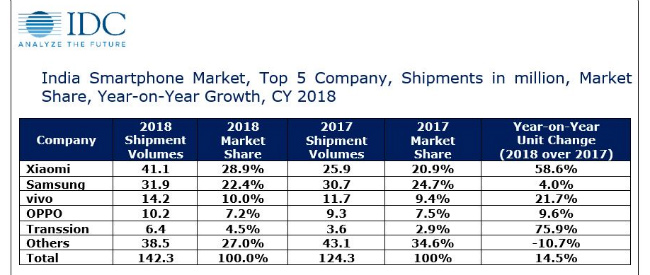 Xiaomi became the leader of smart phones
The published data shows that for the company known as the "Apple of China", 2018 was a very successful year with respect to sales, thus achieving a total shipment of 41.1 million units, being the largest number of shipments in comparison to other companies in India. This large number of shipments gives Xiaomi a market share of 28.9%; having said that, the global market leader, Samsung, sent a total of 31.9 million devices, achieving a market share of 22.4%.
On the other hand, BBK, Vivo and Oppo, also had a great year in India, having a market share of 10% and 7.2%, as well as shipments of 14.2 million and 10.2 million smartphones, respectively. Finally, the well-known Chinese company, Transsion, owner of brands such as Infinix and Tecno, completes the top 5 participation.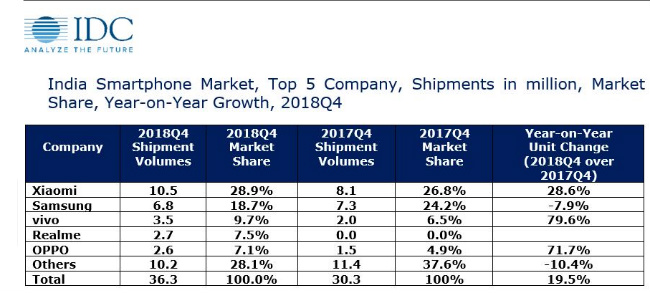 How did Xiaomi get to the position of leader in sales?
Due to this amount of sales, users expect Xiaomi to become the most important company in India with its sub-brands Pocophone and Redmi, in addition to the Mi brand. The IDC report shows that the Redmi series contributed enormously to the growth of the brand, since the Xiaomi Redmi 5A and the Xiaomi Redmi Note 5 Pro ended up being the fastest selling Smartphones of 2018 in all brands, thus reaching the 10 million shipments throughout the year. Also, another contributing factor in the position of leader of this company was the opening of more stores in rural areas, while, in turn, their online sales sold more and more products.
For now, Xiaomi remains the king of online sales with a 47.2% share, while the IDC report shows that this Chinese company became the second largest original equipment manufacturer in terms of sales outside line
Has this article been to your liking and are you interested in seeing more like this? If the answer to that is yes, then, we invite you to follow us on our official Facebook, Twitter and Instagram pages, where in addition to news, you can find the best analysis together with the best offers in the market. Also, now we have a Youtube Channel, so if you want to see videos of the things that Xiaomi has for its users, go and follow us there!