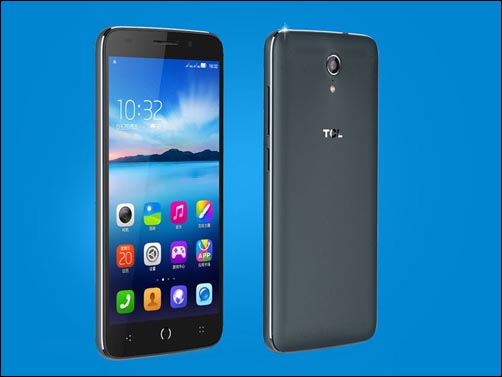 This is the first smartphone from TCL that I've bought. Before I ordered this phone, TCL was really an unknown brand to me. While doing an internet research to find the right phone, I found that there are plenty of smartphones in the market. One of the main reasons for this is the new phone brands that are coming up in the market every now and then. For me, TCS M3G 3S has proven to be a product of very good quality, so am sharing it with you all.
Not only this phone looks good and feels light but its specifications are comparable with any other good phones. Let's see this phone in detail.
BOX, OUTER APPEARANCE AND SCREEN
Below is the outer box in which phone is delivered to users. It has a neat and pleasant appearance.
The front panel is similar to most smartphones but the circular touch pad at the bottom stands out.
The body is made of plastic, except for the narrow aluminum edges that give smooth touch on the user hands. On the right side of the phone, we find buttons for On, and Volume up and down. Both the buttons give a good touch and proper sensitivity to pressing.
At the top, we find the headphone jack.
At the bottom, there is a port for inserting microusb and a couple of speaker grilles.
The rear side is elegant, it has a slight mount that is visually attractive and pleasant to touch.
At the top on the back side, we have13MPX camera along with a small LED flash.
Let's see some more images.

This phone is pretty light in weight. It weighs about129 grams.
The Middle of the phone thicker than the sides. It has  8.5 mm thickness.
This phone uses a simple and elegant appearance without any ooh looks.
TCL M3G 3S has a 5-inch IPS panel and FullHD (1920 x 1080) resolution. It is an advanced configuration for a phone availabele at this price range.
The display is perfect from every angle, thanks to IPS panel.
PERFORMANCE
The SoC of this smartphone consists of a 64 bit Snapdragon 615 MSM8939, octacore processor with a clock speed of 1, 5 GHz, along with 405 Adreno GPU. The uses 2 GB of RAM and 16 GB ROM which is expandable upto 32GB. So we have a smartphone with good performance and fairly energy efficient configuration. Only setback could be the screen that is not FullHD. It might not give a superior gaming experience to users who are used to high definitions. But if you're not very demanding it you shouldn't be a problem.
CAMERA
The rear camera of TCL M3G 3S is of 13MPX which gives you the good quality pictures like you see in the pic I clicked from my apartment. The pictures come out in great detail, and correct color. The front camera is of 8MPX.
 I recommend you to see images at their actual size. Just to mention, the pictures shown below are reduced in size. 

OTHER CHARACTERISTICS
Below are the pre-installed apps that came with TCL M3G 3S.
TCL M3G 3S has a 16 GB of internal storage, which is expandable using cards.
Phone operates on Android 5.0.2 Lollipop O.S
The device runs over very similar customization options like that of Xiaomi phones. At first, I was feeling a bit odd while navigating through various screens of this phone but I quickly adapted to it. Now the operations and buttons work on my second thoughts. And ofcourse the users can install the launcher that best suites for their use. It is important to note that only the English and Chinese languages are inclued by default but you can install spanish language easily by following simple steps.
The wifi behaves as expected, without highlighting anything signficant. I performed a test with the app "Wi-Fi Analyzer". The phone was connected to a network of 2.4 GHz and the router was 10 metres away from the device. Also there were couple of walls in between. The result of the test shows that the phone offers superior wifi performance compared to other phones in the same price range.
Below is the snapshot of the result after executing "Test GPS" app for 1 minute, in the open and moving (walking) space in Madrid. Suprisingly I was able to detect a lot of satellites, but the phone was not able to triangulate the position, I will have to do more tests.
The phone has HotKnot technology for the exchange of information between phones. In addition as it is commonly seen in these kind of smartphones, it has a screen writing feature to launch apps, unlock screen with double-tap, etc, all can be configured under the "Smart Somatosensory" menu


Important points to note
Available in Spanish language:

No, only English and Chinese



Custom interface:

Yes, icons, animations, menus etc are there



Level of pre-installed apps:

Medium



FM radio:

Yes

GPS:

Yes

Bluetooth 4.0:

Yes



DualSim:

Yes

Removable battery:

Not

Battery capacity: 3000 mAh

Bands available 3G:

Review tab

Has 4 G/LTE:

Yes



This smartphone is certainly interesting and it stands out with its large screen and powerful processor to give a greater performance. The general appearance of the phone and its camera are not left behind. As a minor negative thing about the phone is the fact that it doesn't come with Spanish language that is something essential for good part of buyers. After you solve it by making some adjustments, rest is attractive and worth for the money paid. 
On a Note, You can use this amazing face swiping MSQRD App to swipe pics from your gallery"
PROS
Good quality screen

 powerful processor

 High resolution camera

CONS
It is not loaded with Spanish language by default 

Problems with the GPS in the test that I did
Buy TCL 3S M3G 4G LTE Smartphone from Gearbest.com for $151.64
Source: http://www.htcmania.com/showthread.php?t=1031015