Wireless Bluetooth enabled headphones are becoming really popular these days. Headphones have become a necessity in the modern world. Our dependence on them is continually rising and is almost at the point of an addiction now. This is in part due to our extreme dependence on our smart devices and other electronic gadgets. Most of us own multiple pairs of headphones and the number is a lot higher than the number of gadgets compatible with those devices. Then why do you continue to buy more and more headphones? Why are we inclined to try the latest pair of headphones on the market? But we are not here to make you feel about owning too many headphones. We are here to tell you that we have found the perfect pair of Bluetooth headphones. Today we will be reviewing the SoundPEATS Q34 earbuds.
If we are forced to reduce our headphone usage to only one or two hours a day, for the vast majority of us we would prefer using them when we go to the gym for a workout, go for a run or on the long commute to and from work. Because if we don't have music blasting through our ears at the time then there wouldn't be anything to keep us motivated. Music is a very powerful force and can greatly affect our mood. So the effect is even more powerful if we have a great pair of high-quality headphones to go with our favorite music.
If you have ever gone to the gym and gotten tangles all around your neck while getting a work out in, you know very well what blessing pair of Bluetooth headphones really are. Don't get me wrong, wired headphones are fine but come on you have to admit there are certain situations where they really tangle things up (pun intended). Like if you are in the gym working out, wires will most probably end up getting tangled up around your throat or arms and trust me that is not a situation you want to be in while you are at the gym. That's why we prefer Bluetooth headphones over wired ones.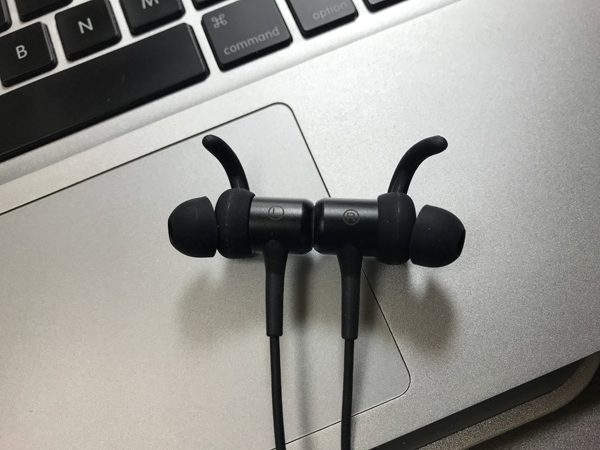 A pair of good quality headphones can be hard to find especially one that has all the attributes of your choice and at the same time not cost hundreds of dollars. Typically wireless headphones can end up sounding muddy and tinny compared to wired headphones. Finding a pair of Bluetooth headphones which offer a decent sound quality, aren't uncomfortable to wear, have a decent battery life and don't cost you a fortune shouldn't be as difficult to find especially due to the wide array of options available in the market, but alas, the struggle is real.
But the great news is, we at XiaomiiToday have been testing out a new pair of budget headphones and we think you lot will definitely like them. So without further ado, here is our honest review of them.
SoundPEATS Q34 Bluetooth earbuds – First Impression:
The SoundPEATS Q34 Bluetooth earbuds have a great reputation among users with a rating of 4.5 of out of 5 from 88 reviews. These earbuds are priced at $27.59, and we think the amazing features on this device coupled with the low price might push this product to the top of our favorites list.
We have tested out quite a few SoundPEATS earbuds over the past such as the Q12, Q15, Q22 models. Over the past over customers have always been impressed with our reviews and for the most part, agree with our views and we hope the same holds true in the case of the SoundPEATS Q34 earbuds. We have been testing out this gadget for over a week now and we must say we are genuinely impressed and have gotten a good feel for them.
Contents of the Box:
The SoundPEATS Q34 earbuds are well packaged similarly to its predecessors we have reviewed over the past. Typically budget earbuds come in below average flimsy packaging which is normally on the verge of falling apart and is almost impossible to open. Getting back to the point, the box contains a pair of wireless Bluetooth earbuds, earbuds which come in XS, S, M and L sizes, a USB cable for charging the earbuds, 3 pairs of ear hooks, a user manual and a flimsy pouch (on the verge of falling apart). But hey, can't complain since many budget earbuds don't even come with a pouch.
And you probably won't even need the pouch since these are the type of earbuds that are for on the go and meant to be just tossed into your bag when you are heading out the door.
Design and Comfort:
The SoundPEATS Q34 earbuds come with 4 sizes of earbuds whereas most earbuds on the market come with only 3. The Q34 has an extra small option in addition to the standard sizes which is great if you are a family and often end up sharing earbuds. The earbuds are made of a soft silicone material and the design is such that it fits the ear canal really well.
Coming to the ear hooks, rather than sitting behind your ears as in the case of most ear hooks these ones sit perfectly on the inner curves of your ear which is great for those who use earbuds a lot because in our experience ear hooks behind the ear can cause chafing and soreness. The SoundPEATS Q34 earbuds fit perfectly in the ear and the resultant sound is more immersive and deeper and reduces external noise if any. Over the time we tested the earbuds, we didn't experience any soreness or discomfort. So a tick mark in the comfort box.
Moving on to the design side of things, the SoundPEATS Q34 earbuds have a nice metallic outer casing which gives it a very luxurious feel. The metallic outer casing has two magnets inside (on in each earbud) which connect the two earbuds at the rear ends. We really appreciate the magnetic feature on earbuds because it adds almost a protective feature to the gadget. You can just fling the earbuds around your neck and join the two magnetic ends together. This way you don't have to worry about the headphone falling down or flying away when there is a strong wind. The two magnetic ends joined together dangling from your neck almost looks like futuristic jewelry.
All in all, we did not experience any discomfort while we tested them out and we were very pleased with the fact that they
Performance and Sound Quality:
The SoundPEATS Q34 earbuds have aptX codec which is a feature usually not found in budget earbuds. This feature greatly enhances the sound quality of wireless audio devices. To test out the sound quality on these earbuds we conducted a series of tests to assess the quality of its highs, lows, and mids. The first sound test we did consisted of bass heavy music in order to determine how well (if at all) the earbuds handle low frequencies. Many low priced earbuds relay high bass music as really muddy but to our amazement, the sound quality was pretty good. It was not as good as the rich as the lows you would experience on a pricier set of earbuds, but this was pretty good too and we are not complaining. Next up we moved to some hip-hop. The result as expected was the same as before; deep, concussive and crystal clear lows.
To assess the sound quality a little more, we listen to some guitar shredding metal to see how well it handled the highs. And as with our previous tests, the results were good and we were pretty happy.
The good news is that there is no bad news when it comes to sound quality with these earbuds. The high and lows both sounded better than our expectations. The mids were sharp and clear. Overall we did not have any complaints whatsoever with the SoundPEATS Q34's sound quality.
Battery life:
SoundPEATS claims that the wireless earbuds have a 7-hour battery life whereas, during over 7-day test, we were able to get a run time of about 8 hours from the earbuds. That might be so because companies often give these things some room if some customer decides to point out that the device is not running for the guaranteed amount of time. It takes about 2 hours for the battery to fully charge. When it comes to standby time, the company claims their device has a standby time of 190 hours.
Connectivity:
The device features a Bluetooth 4.1 wireless connectivity which makes for easy and hassle-free pairing with your Bluetooth enabled device. The earbuds have a working range of 33 feet which is plenty of cushion room is you are listening to music while doing chores around the house and don't feel like carrying the phone with you. During our trial phase, we did not experience any disconnection issues.
Microphone:
The SoundPEATS Q34 earbuds come with a built-in inline microphone which means there is no reason to disconnect and take off your earbuds to make or answer a call. We used the device so many times to answer and make calls. We didn't encounter any problems, no connection issues and the person on the other end has no trouble listening to us. We even listened to ourselves on the other end of the call and the sound went across perfectly. Most of our communication is done through text and e-mail, so the microphone wouldn't have been a deal breaker if it was functioning poorly.
Controls:
The Q34 also features in-line controls which we hugely prefer over controls located close to the ear. The problems with the latter are it can be extremely hard to determine which button is which and at least 7 times out of 10 you end up pressing the wrong button. Secondly, we think one looks extremely silly fumbling around with controls next to your ear. Although the in-line control is small and compact, the downside is that the buttons aren't the easiest to manage. Although the controls are raised enough for the user to differentiate between them easily, the compact design sometimes makes for wrong presses. While it's not that big of an issue, it might easily become annoying for some people.
Final Verdict:
The SoundPEATS Q34 is one of the best pairs earbuds we have reviewed so far and it is definitely at the top of our budget earphones list. The 4.5 out 5 reviews on Amazon is definitely well deserved and the earbuds are definitely worth the hype. With their balanced sound, comfortable wear, easy portability, good connectivity, and long battery life, these are a pair of buds you can rely on for consistency and endurance.
If you are interested in buying this product, visit the following links:
Buy SoundPEATS Q34 earbuds on Amazon
Read More: Telfast f6 Pro Ultrabook only under $450