Technological development has reached standards that we never thought possible. It was not long ago that cameras just invaded our lives and it is now an integral part of the daily lives of users. We went from really large cameras that required bases to be used and since the photography section of smartphones has been consistently improving and now, we are in the era of the dual front and rear cameras. LEAGOO seeks this perfection, and that is why it brings us the new LEAGOO M9 , a mobile phone that promises spectacular photographs thanks to its 4 cameras. Join us to discover this new technological beast.
LEAGOO M9: A pleasure to behold
The polycarbonate body of LEAGOO M9 has a well-rounded metallic finish, together with a glossy paint similar to that of metal, thanks to the non-conductive vacuum metallization technology (NCVM) used in the finishing of this smartphone body. The meticulously crafted 3D rounded body flows smoothly into the smooth half frame – which makes it a pleasure to hold and contemplate. In addition, every little detail of the M9 is carefully designed. Around the edge of the fingerprint identification button and the dual rear camera is a circle of a refined metal ring, shining like a work of art and bringing elegance and protection to its exquisite design.
LEAGOO M9 Display
The LEAGOO M9 features a 5.5-inch IPS screen covered by Corning® Gorilla® Glass 3 glass. By adopting the latest full-screen design with ultra-thin bevels, the M9 will definitely provide the most immersive visual experience. With IPS technology, the M9 makes the images more vivid and gives you a greater angle of vision. It also offers a very realistic color reproduction and provides an impressive visual performance. In addition, the M9 adopts a more advanced multi-touch panel technology. It consists of a total of five points of contact to achieve a perfect tactile experience.
The Leagoo M9 incorporates the new 18:9 aspect ratio design with an 80% screen-to-body ratio which gives the LEAGOO M9 a more comfortable grip and a visual experience without obstructions. It ensures a wider view without the need for a larger phone. So let yourself be carried away by a larger view that fits comfortably in your hand.
LEAGOO M9: the world at your fingertips
The LEAGOO M9 offers unparalleled unlocking speed. Its Smart Touch technology and its independent ISP chip are optimized for an instant response in the storage and processing of fingerprints. The more you use it, the quicker your tactile response will be.
LEAGOO M9: performance
Powered by an efficient quad-core processor, the M9 is able to handle your daily tasks with ease thus you will enjoy a smooth performance. Thanks to the MT6580 processor combined with 2GB of RAM, the M9 performs with ease in most applications and games.
LEAGOO M9: Dual front & rear camera + Double LED Flash
With more light absorbed and greater clarity, the 8MP + 2MP dual rear camera captures the magical moments of life with its vivid details to inspire your inner photographer. You can expect the image quality and reproduction power that every photography fan deserves from your phone. The excellent dual front camera (5MP + 2MP double front camera + LED flash) of the LEAGOO M9 can enhance its appearance in all possible ways, from lighting the texture of your skin to outline the shape of your face, etc., all to show the best of you. The LEAGOO M9 has a soft light photosensitive LED, which aims to increase the surface area of the sensor of each pixel. That means you can capture more details in low light environments, thus offering better selfies at night.
LEAGOO M9: dual camera, perfect image
The LEAGOO M9's state-of-the-art dual camera features a new portrait mode with a SLR-type bokeh effect. The foreground figure is sharper than ever, while the background image is blurred in a way that is pleasing to the eye. Benefiting from a 52mm portraits camera, even the eyelashes can be seen in clear detail. Equipped with the latest dual camera scheme, binocular stereoscopic vision and depth learning algorithm, the LEAGOO M9 allows you to capture the most impressive pictures.
LEAGOO M9: a breakthrough in the phone speaker
By adopting the latest loudspeaker box technology, the LEAGOO M9 can offer you an immersive acoustic experience by precisely controlling the vibration of the loudspeaker which ensures a clear and tremolo-free sound. By fully reproducing the performance of the speaker, the sound quality improves significantly without any breaks and reaches a high level of quality.
LEAGOO M9: Powered by an average battery
Powered by an average 2850mAh LG battery, the LEAGOO M9 can last all day with a single charge. After 500 times of loading and unloading, at least 90% of its initial nominal capacity is still retained in the battery and its service time is twice that of ordinary batteries. Together with LEAGOO OS optimizations at the system level, it guarantees up to an average of 7 days of waiting time. Now you can enjoy movie marathons, run applications and play without worrying about running out of battery.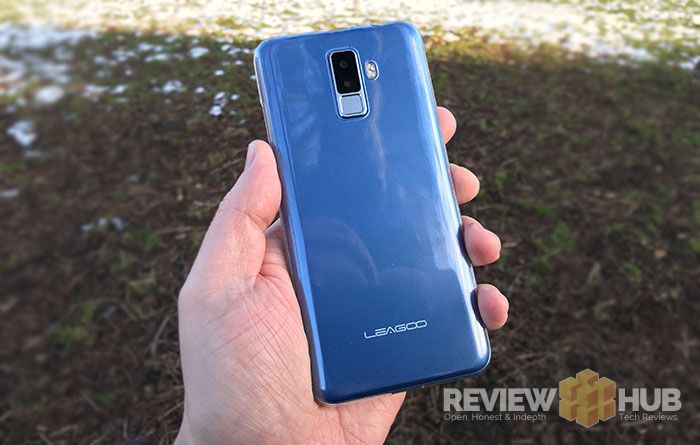 LEAGOO M9: more fluid, more stable and smarter operating system
Experience the new Android 7.0 Nougat on the M9 . The new LEAGOO OS 3.0 works perfectly with the MTK6580 chip to give the M9 a much smoother operating speed and a more stable user experience. Based on Android 7.0, the operating system has been optimized thus allowing you to customize your phone with smarter interactions. Show your identity with a unique experience.
LEAGOO M9: technical specifications
Basic information
Brand:
LEAGOO
Kind:
3G Smartphone
Unlocked:
YES
SIM card slot:
Dual SIM with standby mode
Screen and dimensions
Type of screen:
Capactiva IPS
Screen size:
5.5 inches
Screen resolution:
1280 * 640
Dimensions
148 mm x 71.2 mm x 9.5 mm
Hardware
CPU:
MediaTek 6580
Nuclei:
1.3 GHz, Four-core
GPU
ARM Mali-400 MP2
RAM:
2GB
ROM:
16 GB
Connectivity
Interfaces
USB port, SIM card slot, 3.5mm audio port.
Cameras
Main camera:
8.0MP + 2.0MP
Front camera:
5.0Mp + 5.0MP
characteristics
Autofocus, face detection, touch focus, continuous shooting, panning, front and back flash.
Battery
Battery Capacity
2850mAh
Removable
Yes
Package content
It includes
LEAGOO M9, USB cable, power adapter, screen protector, case protector, SIM needle, user manual.

Where To Buy The Leagoo M9 Smartphone
The Leagoo M9 is currently available on Gearbest for 90.96. Depending on your location and preferred shipping option, this product may be brought to you for FREE.