Cubot R8 review- Apple like SmartWatch at a cheaper price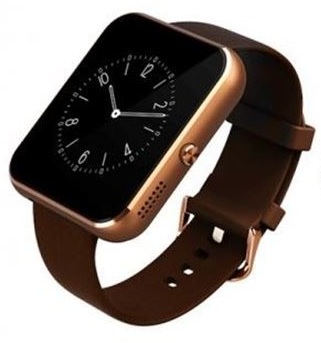 Welcome once again technology lovers to a new unboxing Cubot R8 review. This time we introduce you to a new Chinese SmartWatch, Cubot R8. 
We bought this 
Smartwatch from the best gadget deal provider Geekbuying and.
 Shenzhen Huafurui Technology Co. Ltd, that runs Cubot is a startup company located in China with a good global recognition. The reason for this is the proper management of R & D, production, sales, storage and logistics. This company provides good credibility for it's products while it has markets over Europe, Russia, Saudi Arabia and South America.
The company Cubot after producing great quality Smartphones in the affordable price range is now taking a step forward to produce smartwatches. The first smartwatch comes in the form of Cubot R8. Today we will discuss this smartwatch in detail and see what is it's potential and shortcomings. But ofcourse at the first look, we see a nice asethetics that remind us of Apple watches.
Unboxing of Cubot R8 SmartWatch
Box is sturdy and made of thick cardboard, which protects this smartwatch from any blow or fall. The box used is white in color which is seemingly more modern than what we used to see of other watch boxes. At the top we see a printed picture of the watch which gives us an idea about its outer appearance and design. Also there is a Cubot logo with silver letters. In the back of the box is printed specifications of Smart Watch and other additional information, such as quality certificates, website address etc.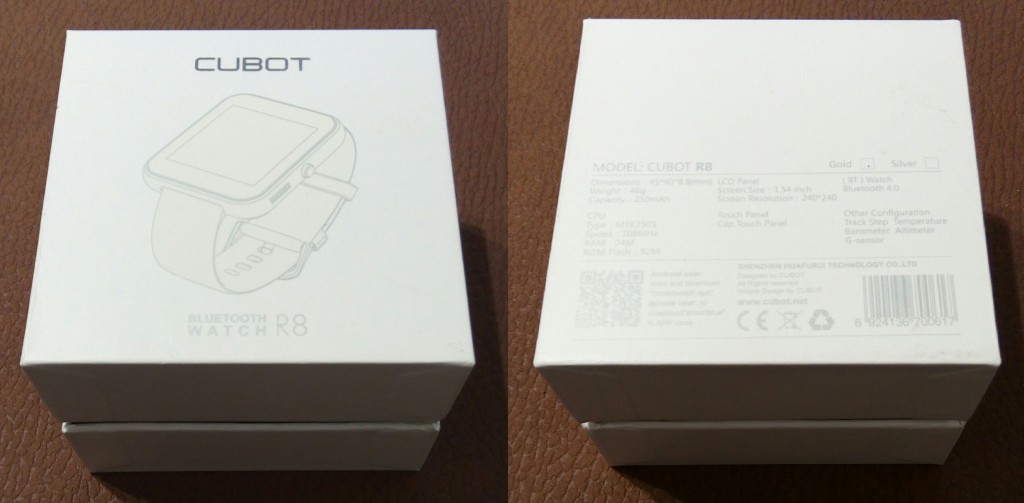 The Cubot R8 is placed on a black high density foam, which is supported on a cardboard surrounding the rest of watch accessories. This Chinese SmartWatch has a square screen which might not be the best of your liking. In such cases you can check out other Smart Watches on the site such as No.1 S3 which uses round stainless steel screen design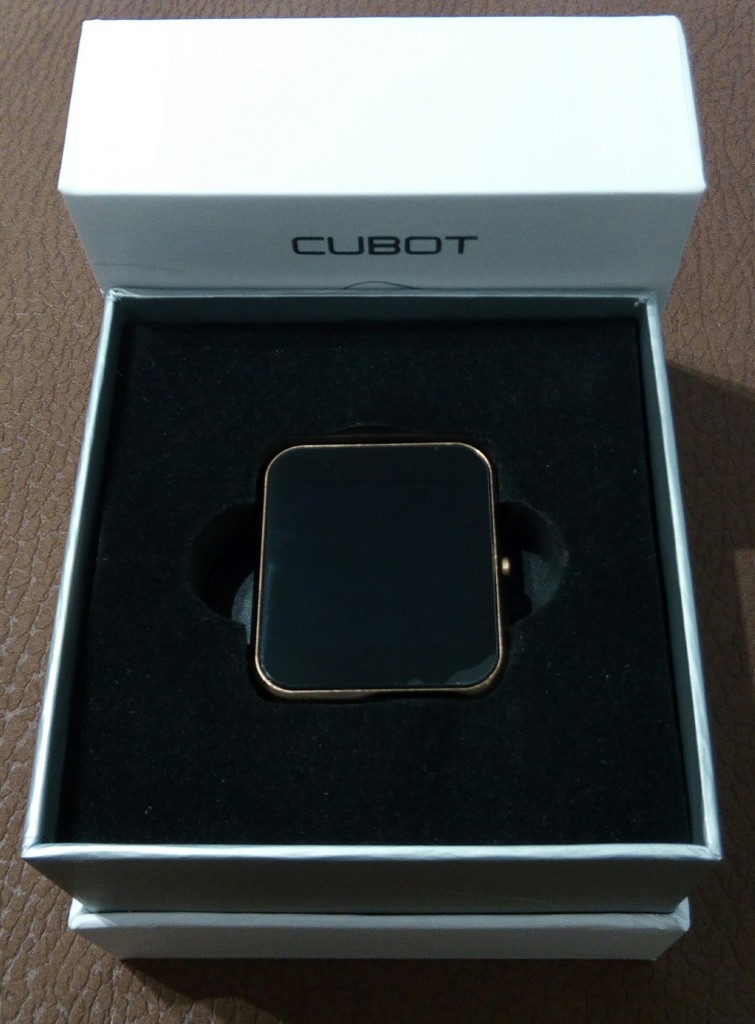 The contents inside Cubot R8 box:
Cubot R8 SmartWatch
Additional rubber strap (blue color).
Base load.
USB charger.
User's Guide.
Screensaver (pre-installed).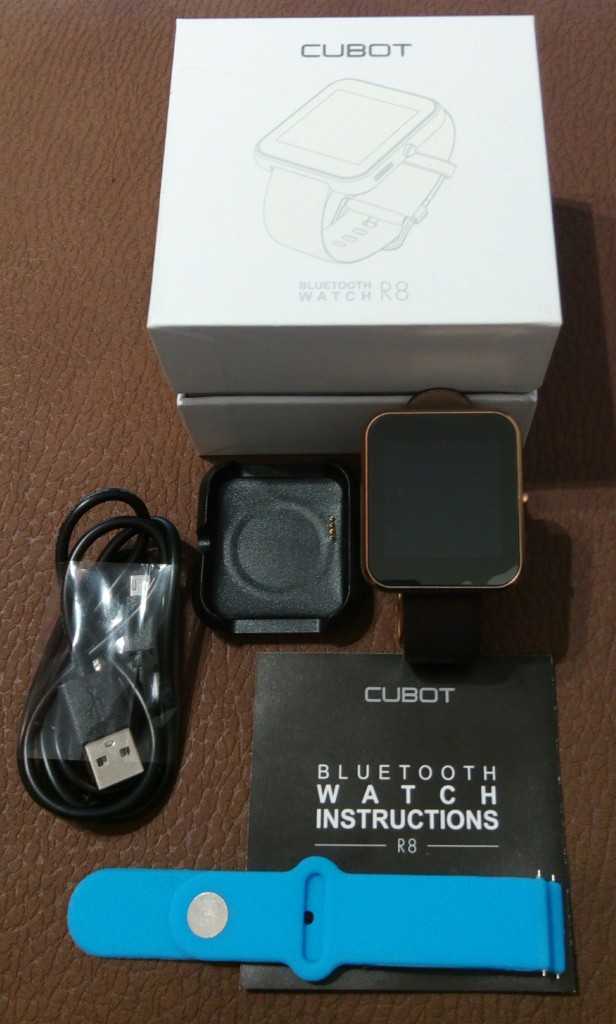 Appearance of Cubot R8 SmartWatch
In the front, Cubot R8 has a square screen of 1.54 inches TFT LCD with 220 ppi IPS. It has a resolution of 240 x 240 pixels and a contrast of 800: 1. When we turn on the Cubot R8, we can see that watch shows the logo of the brand and its website address.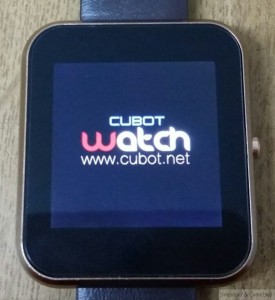 At the rear, it has a circle of metal gold color, over which is written certain specifications such as waterproof, movement monitoring, etc. It has four-pin charging outlet.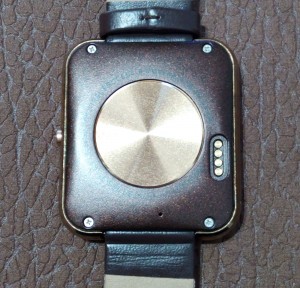 If we look on it's sides we see that they are rounded to give the watch an elegant and sophisticated look. On the left hand side there is microphone and on the right hand side we see a physical button and speaker.

Cubot R8 battery is not removable, which is a greater disadvantage because if it breaks down, we have no alternative but just to discard the whole watch. The watch uses a lithium battery of 250 mAh capacity. This SmartWatch does not have micro USB input, 

This SmartWatch can be used only when you link it to your smartphone via Bluetooth , because you do not have the option of inserting a micro SIM like in the case of DZ09 SmartWatch.
Cubot 8 has a brown leather belt with gold metal buckle that is interchangeable.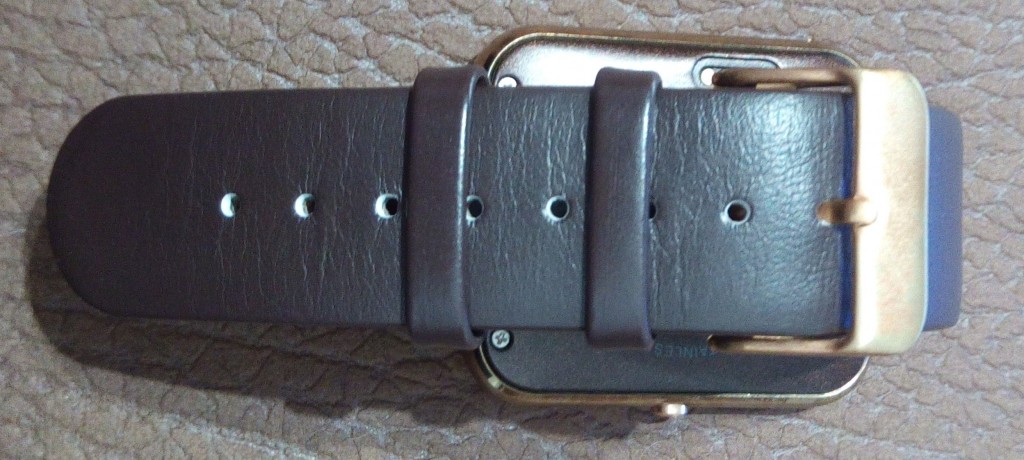 Specifications of Cubot R8
Model : Cubot R8.
Processor : Mediatek MTK2501, 108MHz.
Ram : 24Mb.
Rom : 32 Mb.
Bluetooth : Version 4.0.
LCD Screen : 1.54 inch TFT IPS 220 dpi.
Resolution : 240 × 240 pixels.
Contrast : 800: 1.
Battery : 250 mAh Li-ion.
Base load : Micro USB.
Certificates : IP54 waterproof.
Standby time : 72 hours approx.
Talk time : 8 hours approx.
SO :Compatible with IOS and Android 4.3 or later.
Materials : metal and leather.
Languages :

Spanish, French, Portuguese, Italian, German, Indonesian, Finnish, Turkish, Russian, Arabic, Swedish, Persian, and 

Thai.

Dimensions : 40mm x 45mm x 8.8 mm.
Thickness : 8.8mm. It is the thinnest SmartWatch in the market.
Weight : 80 grams.
Colors : Gold and silver.

Cubot R8 Watchfaces and menus
The Cubot R8 has three watchfaces, two digital and one analog.

Cubot 8 smartWatch only has two different menus . I made a list consisting different screens so that you know it's various utilities.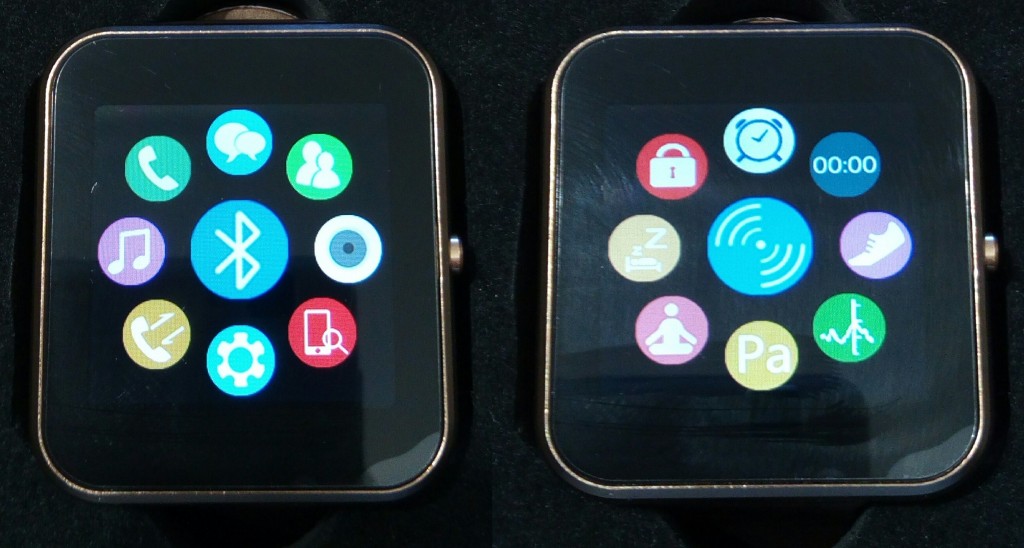 First screen: Bluetooth, messaging, phone book, remote camera, phone finder, configuration, call log, music and bluetooth keypad.
Second screen: notification, alarm, stopwatch, pedometer, altimeter, thermometer, timer sedentary, and monitor anti-lost dream.
Features of Cubot R8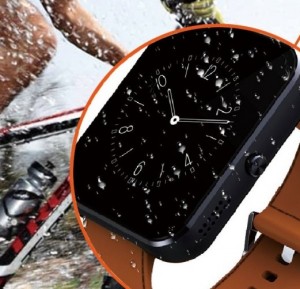 Waterproof
It is certified IP54, resistant to dust and water splashes.
Sleep monitoring.
It serves as a control over the 

hours we sleep to improve the 

sleep quality.

Pedometer.
With this feature you can know the number of steps you walked while you are excerising or doing any other day to day activity.
Barometer.
It is used to measure atmospheric pressure. This is useful for height related adventures.
Altimeter.
lets us know how high we are above the sea level.
Thermometer.
With this feature we know the temperature of place where we are standing.
Notice of inactivity.
Through alarm, our SmartWatch alerts us to move or do some physical activity.
Anti loss.
Through an alarm, we know if we are moving away from the phone that is linked to the watch. This feature is essential for those who are absent minde and forget things easily. It can also serve us in the case of theft.
Remote Camera
Despite not having a built-in camera, the Cubot itself has the option to remotely manage the smartphone camera to which it is linked by Bluetooth.
Other functions.
Handsfree. Call log. Message log. Notifications. Diary. Calculator. Alarm. Bluetooth headphones. Calendar. Compass. Remote music. Sound recorder. G-Sensor. Phone Finder.
Cubot R8 price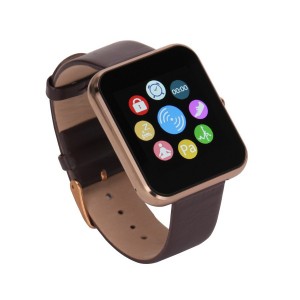 One thing that may impress a buyer about this SmartWatch is it's lightness. Also the hype of this watch being the thinnest SmarWatch in the market today could also attract people. Overall with nice rounded edges and Premium finish Cubot R8 is a very stylish and comfortable watch to wear.
Buy Cubot R8 from geekbuying.com for $69.79