Trending
(Coupons) to buy Xiaomi Smartphones, Airbuds, TV Box, MiPad in Best Price
The Xiaomi Mi 9 has a slightly curved glass back, giving it a distinct look and a comfortable feel. Xiaomi says this creates an appealing holographic effect; we didn't notice this with the Piano Black handset we tested, but it's possible the Ocean Blue or Lavender Violet colors create this effect a little better.
Original Price: 484.99$
Price After Coupon: 341.96$
Coupon Code:
BG88964
The Mi 9 has a 6.39-inch AMOLED display, with a 2340 x 1080 Full HD+ resolution, which delivers vibrant colors with a great brightness range – it was a treat to watch movies on and complimented the fantastic camera array. This screen is broken by a small top bezel housing the front-facing camera, but other than that is unbroken, with no top bezel to speak of and minimal chin. The Xiaomi Mi 9 measures 157.5 x 74.67 x 7.61mm, so it's a medium-sized device, but at 173g it does feel a touch on the heavy side.
The phone features USB-C at its base, but there's no headphone jack, which leaves wired headphone fans to rely on the in-box 3.5mm adapter. This is a disappointing but expected move considering both current smartphone trends and its predecessor, which have taken the same path. Xiaomi's MIUI interface is a heavy-handed skin set atop Android, but the global version of MIUI 10 as it appears on the Android 9.0 Pie experience running on the Mi 9 feels decidedly approachable – even for newcomers to the operating system. There have been no corners cut with the Xiaomi Mi 9's engine – it's one of the first phones to be powered by Qualcomm's Snapdragon 855.
Original Price: 484.99$
Price After Coupon: 341.96$
Coupon Code:
BG88964
Xiaomi Mi 9 has 48-megapixel primary sensor, which features a pleasingly wide f/1.75 aperture. It's the same sizeable Sony IMX586 1/2-inch sensor Here, however, it's supported by a 12-megapixel (Samsung S5K3M5) telephoto sensor that grants the phone 2x lossless optical zoom (this is also the lens surrounded by that holographic 'halo ring') and a 16-megapixel (Sony IMX481) ultra wide-angle sensor. The latter boasts a 117-degree field of view that not only lets you take impressive wide-angle shots but also lends its talents to macro photography, thanks in part to a 17mm equivalent focal length. you can easily buy this from Banggood for only 341.96USD coupon code BG88964.
The Xiaomi Mi A3 was one of the brand's most anticipated smartphones for offering us above average quality and a pure Android User Interface. That is, what many Android lovers have always wanted. The global version of the Xiaomi CC9e is here! The Xiaomi Mi A3, same as the Mi 9T, comes with lower specifications than its Chinese counterpart. A super-powerful phone and especially suitable for you, that you love selfies. With a huge battery and a lot of features that make it the most powerful phone in its range, the new Xiaomi phone is developed so you can enjoy even more of a mobile phone.
Pre Price: 279
Coupon Price: 199.99
Coupon Code:
BG8A364
The slim and lightweight Xiaomi Mi A3 in a smoothly curved glass case with a holographic 3D effect makes an indelible impression. The smartphone is available in 3 color solutions, which have received very original names: "Beloved White", "Black Prince" and "Star Blue". Choose the option that best complements your style, and collects admiring glances of others. On the back and front is Corning Gorilla Glass 5 to protect the smartphone with its dazzling design. Xiaomi Mi A3 is developed with an HD + screen with a resolution of 1560×720 px, with AMOLED technology, which makes it especially suitable for viewing our photographs with superior quality. In addition, so that nothing happens to the screen of your new favorite phone, this model has a great resistance against scratches Corning Gorilla Glass 5. All this with a screen of a good size of 6.09? to enjoy everything you intend to see on your phone.
Xiaomi Mi A3 received an updated Snapdragon 665 processor and 4 GB of RAM with a storage capacity of 64GB/128GB, which makes it fast enough for any task. The third-generation Qualcomm AIE artificial intelligence significantly improves speech recognition and image optimization, and the graphics chip supports the latest version of the Vulkan 1.1 standard, which is 20% lower in power consumption. Therefore, applications will run faster, and the games will go without pauses and hangs. A very powerful phone for its price and, in addition, it has state-of-the-art processors, specially indicated to be able to move everything we ask to our phone.
If something stands out the new Xiaomi Mi A3 is to know its audience well and this was demanding a front camera at the height. The Chinese brand has developed a phone that offers brutal characteristics for the realization of photographs and selfies. Its front camera is located in the upper 'notch' of the screen and has nothing more and nothing less than 32 Megapixels, with the ability to merge pixels. But this is not all, because the Smartphone has a lot of original software for image processing, such as the Pixel binning function, designed to improve the brightness of photographs, all kinds of filters and effects and the always powerful beauty mode. But not everything is self-portraits for social networks.
Xiaomi Mi A3 incorporates in its rear a triple camera, with the main sensor of 48 Mpx, with which we can also merge pixels. We will get complete photographs of great size and quality getting brighter images, thanks to its focal aperture f / 1.79, whatever you want at any time. Next, to this main sensor, we find a super wide-angle 8 MP, which has a 118º wide lens to take large group photographs or landscape photographs. And it has a third sensor that takes care of the depth readings of 2 MP and that has an f / 2.4 lens, which allows us a superior quality in all types of photos. You will enjoy your days more thanks to the new Xiaomi Mi A3.
Despite external harmony, in the smartphone, there was a place for a very capacious 4030 mAh battery. It is enough for a day of work and communication in active mode, and a quick 18-watt charge will help replenish energy reserves in the shortest possible time. Just tap the screen to unlock your smartphone. The seventh-generation optical fingerprint sensor installed in it works fine at low temperatures and detects the owner 30% faster than the previous generation of scanners.
Xiaomi comes to introduce us to the new Mi A3. Your new baby who leaves the LCD behind to make a leap to AMOLED, this new generation has more power and a 4030 mAh battery that lasts much longer than its predecessor, triple rear camera with AI, in addition its fingerprint sensor passes in front just below the screen, with a very nice gum design that even your friends will love. We can buy it from Banggood at (4+64GB) at $199.99 by using Coupon Code: BG8A364
Buy Xiaomi Bluetooth Headset Airdots
Xiaomi Bluetooth Headset Air adopts the wireless design in the two headphones and says goodbye to the wiring. Each headset weighs 5.8 grams and is compatible with the waterproof IPX4 protection level. It is compatible with all kinds of smartphones, laptops and Apple products. Each headset is independent and just by removing an earphone from the box we can take a call.
Buy Xiaomi Airdots Pro True Wireless bluetooth Earphone Active Noise Cancelling
Normal price: 79.99$
Coupon price: 45.79$
Coupon:

BGXMTWS
The Xiaomi Bluetooth Headset Air is also compatible with AAC's advanced audio coding technology, which has excellent performance in terms of vocal reduction and instrument separation. The headphones have a touch control in the headset housing. If we play the hands with the fingertips we can activate the AI, pause a song, take a call … just like the My AirDots do.
After the first pairing is successful, the charging box automatically connects to the device and can be connected automatically within 30 minutes after disconnection. If no operation is performed for 30 minutes, they will turn off automatically. At this time, we only have to take them to turn them on again.
The box is like a power bank, the headset and the storage box allow fast charging, the charge for 10 minutes makes it possible to use them for 70 minutes, in an hour we would have the full load with maximum use 3 hours use.
The Xiaomi Bluetooth Headset Air box can charge the headset 2 and a half times the headphones being a total of 10 hours of music playback. In China, they are already on sale, so it is a few days we will see them for sale in Chinese import stores.
Buy Xiaomi Airdots Pro True Wireless bluetooth Earphone Active Noise Cancelling
Normal price: 79.99$
Coupon price: 45.79$
Coupon:

BGXMTWS
Buy Xiaomi Mi Box S TV Box
The new variety "Xiaomi Mi Box S with 4K HDR Android TV" of the popular TV box offers a showcase of mixed media substance disconnected and online in superior quality 4K, and in HDR.
Click here to Buy XIAOMI Mi Box S
Normal price: 79.99$
Coupon price: 56.99$
Coupon Code:

BGMIBOX2GB
The Xiaomi Mi Box S with 4K HDR Android TV confine comes dark shading and created from PC+ABS material making it tough and prepared to withstand all sort of utilization. It has a small adjusted body which is under four inches wide and profound which is just around seventy five percent of an inch tall, making it simple to fit in at any diversion focus. On account of the Bluetooth remote which makes it conceivable to put the TV box anyplace and still get the opportunity to control it without stress. It has a measurement of 3.75 x 3.75 x 0.66 inches and weighs 300 grams.
he Xiaomi Mi Box S with 4K HDR Android TV box is controlled by a quad-center Cortex A53 processor. This chipset is fast and stable which can give you speedy input and smooth reaction. This processor is combined with a Power Mali-450 GPU which offers you the superior quality pictures and recordings. It accompanies 2GB RAM and 8GB interior stockpiling which give you more space to download your most loved applications and reserves to peruse sites, play recreations, run applications, watch films all the more easily. The Tv box has an interior cooling framework inside the advanced player which will improve the execution of the crate.
Xiaomi Mi Tv box S new model is furnished with a quad-center processor, 2 GB RAM, 8 GB ROM memory, Bluetooth variant 4.2, HDMI 2.0A port, earphone attachment, and 2.0 USB port. The remote control will likewise be invigorated. The new form has a committed catch for what I utilize frequently, i.e. Netflix. On account of the Android TV framework, the gadget will be formally bolstered by Google and incorporate various offices, among others bolster for Google Assistant and Chromecast. Chromecast gives a simple exchange of interactive media records straightforwardly from your PC or cell phone to a vast TV screen. buy this from Banggood with $56.99. for more discount use the coupon code: BGMIBOX2GB
Click here to Buy XIAOMI Mi Box S
Mi Pad 4 Plus tablet PC has been subject to all sorts of speculations and leaks despite the lack of an official confirmation. Sporting a 10.1-inch touch display with 1920×1200 pixels resolution, the device is expected to breathe new life into your photos and videos.
Aside from that, the tablet boasts a broad range of exceptional specs and features that are likely to sweep tech buffs off their feet. Let us take a gander at some of the tablet PC's mean features.
Price: $267.99
Coupon Code:

BGMipad64
The Mi Pad 4 Plus packs a powerful Qualcomm Snapdragon 660 AIE 2.2GHz processor along with an equally competent Adreno 512 650MHz GPU, under the hood. The Xiaomi-branded tablet PC offers 4GB of LPDDR4x RAM and 64GB/128GB of onboard storage so that you can save your favorite content without running out of storage space.
On the photography front, the Mi Pad 4 Plus tablet PC houses a 13.0MP camera with f/2.0 on the back. Up front, there's a 5.0MP camera with Samsung S5K5E8 sensor for selfies and face-to-face video chatting.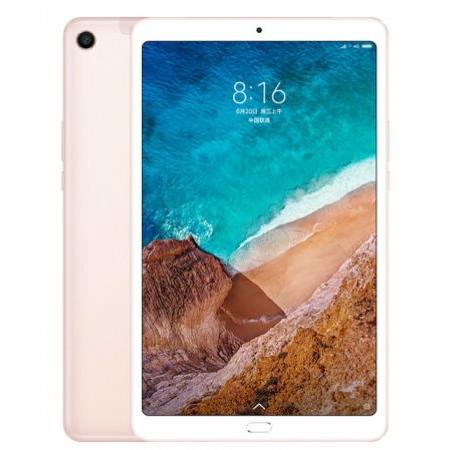 The Mi Pad 4 Plus tablet PC is equipped with 802.11 b/g/n/ac wireless Internet so you can connect to the internet when you're within range of an accessible wireless network. Moreover, the device can wirelessly transfer media files from your computer to another Bluetooth-enabled device such as a cell phone or MP3 player.
It runs on MIUI 9 based Android 8.1 Oreo operating system and is backed by a robust 8620 / 3.7V, lithium polymer battery. The coveted tablet PC is crammed with other features such as alarm, Bluetooth, browser, calculator, calendar, OTA, OTG, and Wi-Fi.