Deals
Minisforum UM350-Minisforum mini PC with Ryzen 5 3550H, a bargain for Minisforum products
Chinese mini PC maker Minisforum will release a mini PC "UM350" equipped with the old generation Ryzen 5 in the CPU. The price is set so that you can feel "that? It's a lot cheaper for Minisforum, this" while maintaining the high maintainability typical of Mini forum.
1. Minisforum UM350 specs
Spec table
MINISFORUM UM350

OS

Windows 10 Pro

CPU

AMD Ryzen 5 3550H

GPU

none

RAM

8GB / 16GB (up to 16GB)

storage

256GB / 512GB SSD




(2.5 inch SATA slot free)

optical drive

none

display

none

network

802.11 a / b / g / n / ac, Bluetooth 4.2

Input / output

USB 3.0 Type-C, USB 3.1 Gen2 x 3, USB 3.0, HDMI, Display Port, LAN (RJ45), audio jack

camera

none

battery

 none

size

127 x 127.5 x 51.3 mm

weight

0.5 kg
comment
The UM350 is positioned as a successor (improved version) of the " UM340 " released in 2021. The OS was Windows 10 Pro, and there was no mention of a Windows 11 upgrade. "It will be okay because it is a new model at this time," he said, "It meets the requirements of Windows 11" with Microsoft's health check tool in the comment section of the manufacturer sales page of the conventional model UM340. Something was done, so it's probably possible to upgrade.
The CPU is AMD Ryzen 5 3550H. I checked the benchmark score published by Passmark.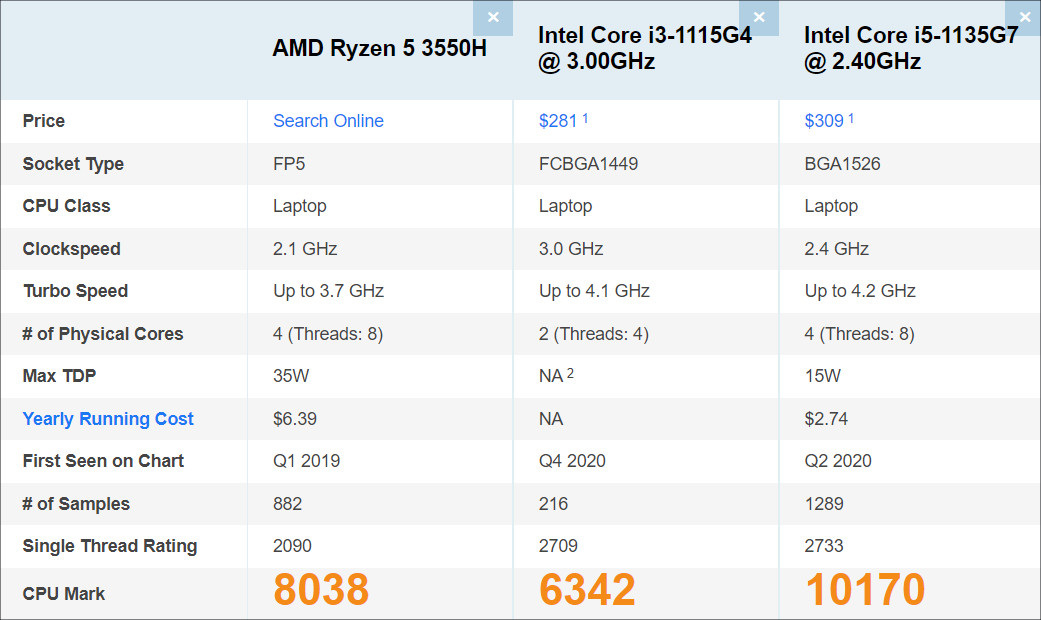 "It's just a single benchmark score called Passmark", but looking at this, the performance is about halfway between Core i3 and Core i5, CPUs for 11th generation (Tiger Lake) notebook PCs. I think it's enough as a main PC for business if you don't use special business software.
The UM350 also has barebones (without OS, RAM, and storage), but we won't cover them here. There are three types of RAM and storage combinations: "8GB / 256GB", "16GB / 256GB", and "16GB / 512GB". There are 2 slots for RAM, and the manufacturer's spec table says "up to 16GB" (honestly, I feel like this is a mistake in the description. 32GB seems to be good).
Also, since the storage is M.2 2280 PCIe SSD, it can be replaced, and there is also a 2.5 inch HDD slot, so you can add it by DIY if necessary.
I have questions about "Communication" and "USB Type-C port standard". The document sent by the manufacturer stated that "Wi-Fi 6 and Bluetooth 5.1 are supported" and "USB Type-C is Gen2 standard", but I could not confirm it on the product page. In addition, there was a note in the comment section of the manufacturer's product page of the conventional model UM340 that "actually it did not support Wi-Fi 6."
Therefore, the above spec table does not mention "Wi-Fi 6 compatible" or "USB Type-C is Gen2". When purchasing, it is safer to think "lucky if it supports Wi-Fi 6 and lucky if it is Gen2" when purchasing.
I can't say that the number of ports is "marginal", but there are a total of 5 USB ports and Type-C ports, so I don't think it will be a problem for the time being.
2.Minisforum UM350 chassis
The housing is almost the same as the UM340 (although the size is slightly different). It's a common "Minisforum chassis", and I don't feel any novelty. Well, it doesn't have to be eccentric because it's a mini PC.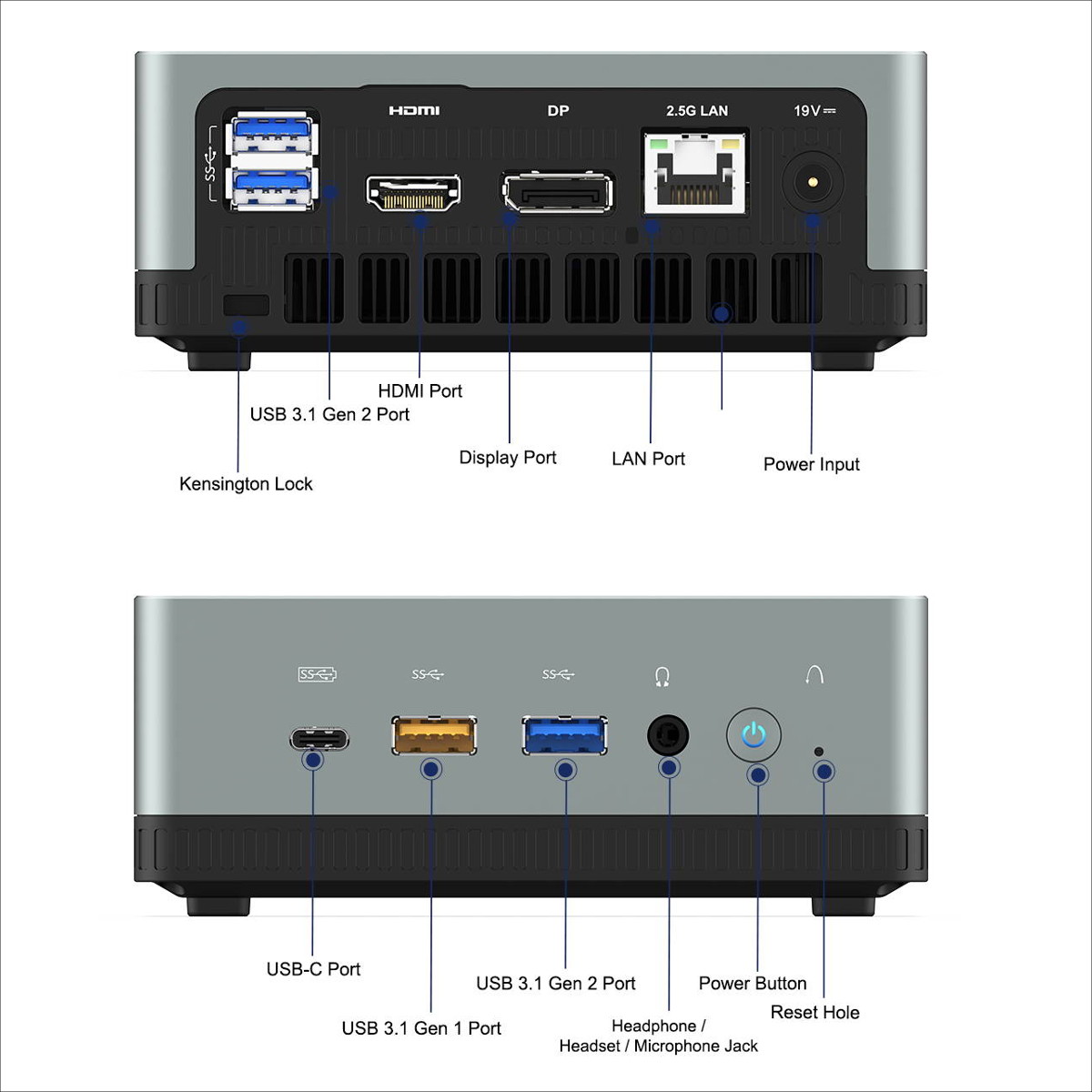 Arrangement of input/output ports. The top of the image is the back, and the bottom is the front, but there are three USB ports on the front. Perhaps the two USB ports on the back will be "for mouse and keyboard", so considering the connection of the webcam and speakers, it seems that it will be wired to the front as well. If you have one hub, it will be much cleaner.
In addition, since the USB Type-C port of this product supports video output, it can output up to 3 screens together with HDMI and DP.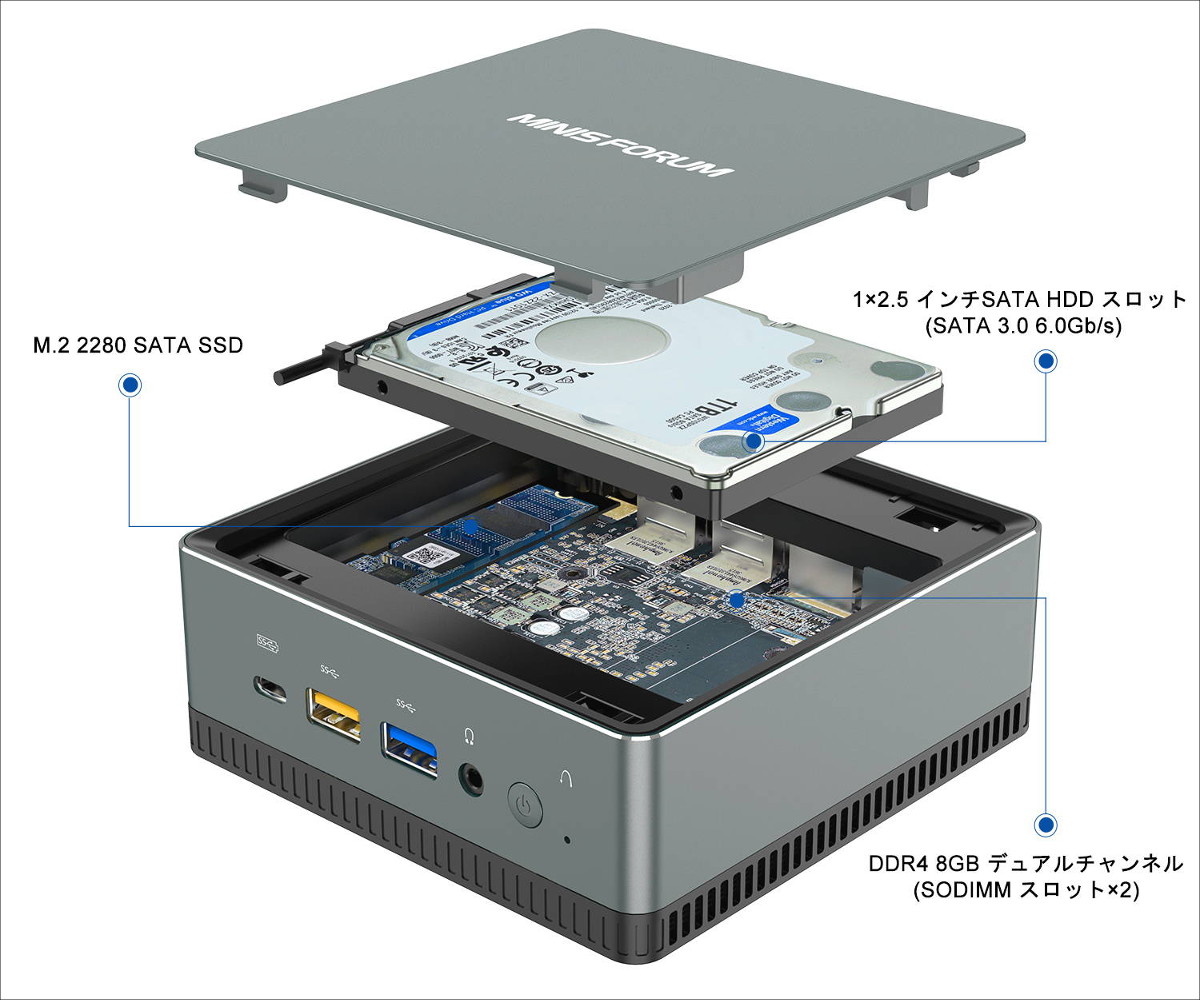 The upper part (top plate) is easy to put on and take off, and you can access RAM and SSD just by removing it; you can also use a 2.5-inch HDD slot. Even if you don't have a particularly high PC knowledge, you can easily add or replace with DIY (however, you need to check the corresponding RAM and SSD specifications before purchasing the parts).
3. Minisforum UM350 Price etc.
The Minisforum UM350 is available for pre-order on the Minisforum official website (shipping is scheduled for late February). As of January 18, we are doing "Reservation limited $100 OFF !!", and the discounted price is as follows. Is.
Barebone: $279
8GB / 256GB: $379 
16GB / 256GB: $399 
16GB / 512GB: $449 
In addition, since the Minisforum official website is "overseas delivery", import consumption tax may be applied (in principle, it will be applied, but detailed comments will be refrained). On the official website of Minisforum, there is an option called "Duty-free delivery ($19)", and if you select this when ordering, you can rest assured that the minisforum will bear the tax and handling charges (payment to the delivery company) for import.
The product price of UM350 seems to be very cheap for the Minisforum. From Wintab's experience, Minisforum mini PCs are often more expensive than other Chinese manufacturers' mini PCs because they are good quality and easy to maintain. However, this price is as low as other Chinese mini PCs.
4. Related links
Minisforum UM350 Mini PC : Minisforum