Deals
CHUWI FreeBook Convertible with quiet fanless cooling for $549.99
CHUWI continues diligently and the new CHUWI FreeBook is brought . Fanless with an Intel processor , the convertible notebook comes with pen support and 2K resolution, among other things . Does it fit in well with the existing portfolio?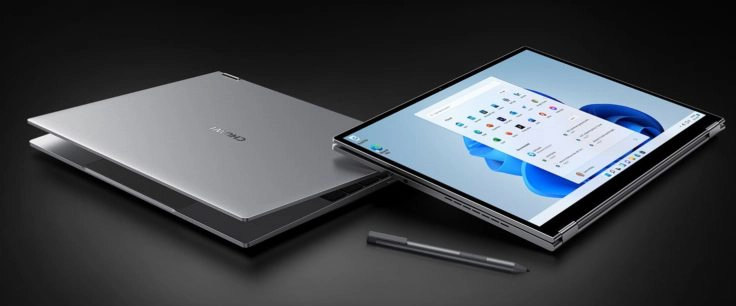 Technical specifications
| | |
| --- | --- |
| model | CHUWI FreeBook |
| processor | Intel Celeron N51000 Quad Core up to 2.8 GHz |
| graphic card | Intel UHD Graphics 24 EU (Execution Units) |
| random access memory | 8 GB LPDDR4 RAM |
| Internal memory | 256 GB SSD |
| connections | Dual WiFi 2.4 GHz / 5.0 GHz 802.11b / g / n / ac, Bluetooth 4.2, 3x USB-C, headphone connection |
| battery pack | 38 Wh |
| Dimensions | not specified |
| Weight | 1.36 kg |
| operating system | Windows 10 Home |
Flexible hinge with different screen positions
We don't expect any great design innovations with the CHUWI FreeBook either. We also find a silver metal case with relatively narrow display bezels here. A special feature here is the flexibility of the hinge , which allows the screen to be freely adjusted. So you can set up the screen like a tent and watch videos and co., For example, or open it like a notepad to take notes.
There is also a stylus for this, which can interact with the screen with 4096 pressure points . The main input methods are of course the touchpad and keyboard. As always, we would like to point out that this is a QWERTY keyboard . As a result, when switching to the German QWERTZ, a key is missing and the labels are also incorrect. You can certainly cope with it, but of course it is unfamiliar and takes some getting used to.
High resolution for the 13.5 inch screen
A 13.5-inch IPS panel with a 2K resolution (2256 x 1504 pixels) is installed on the screen . It is aligned in the 3: 2 aspect ratio , which is particularly suitable for work.
This frees up more vertical space on the screen for documents and websites. In addition, the FreeBook should map 100% of the sRGB color space .
Moderately strong hardware
As in the LarkBook X, there is an Intel Celeron N5100 with four cores at a clock rate of 1.1 to 2.8 GHz . This was released at the beginning of the year and even if it is not the fastest model, it can be used for office, web browsing and similar light tasks.
This is paired with the integrated Intel UHD graphics card, which is also more suitable for light requirements. A fanless cooler design was chosen here, so the notebook shouldn't make any noises even when it is fully loaded . However, you have to see to what extent this is reflected in the performance. Because if the processor is not cooled well enough at maximum load, it has to slow down.
Very one-sided connection options
The CHUWI FreeBook has 8 GB DDR4 memory and a 256 GB NVMe SSD at its disposal. There are fewer ports on the FreeBook. There are two USB-C ports next to the start button on the right .
Another USB-C port and a headphone jack are unusually deep on the left . You are wirelessly connected to Wi-Fi 5 (WLAN ac) and Bluetooth 4.2 . Again, I find the choice unusual, actually the processor could come directly with Wi-Fi 6 and Bluetooth 5.
Loads of different strengths
In the absence of other options, the CHUWI FreeBook also charges directly via USB-C. But here you have to go into the peculiarities of the individual USB-C ports. One of them is equipped with a PowerDelivery store and USB-3. Another then with USB 3.0 and the possibility of charging, but not with Power Delivery. The last one in the group is only connected with USB 2.0 and cannot charge the notebook. Very interesting, here you have to use the correct connection when charging, which will hopefully be mentioned in a manual or labeled on the product itself.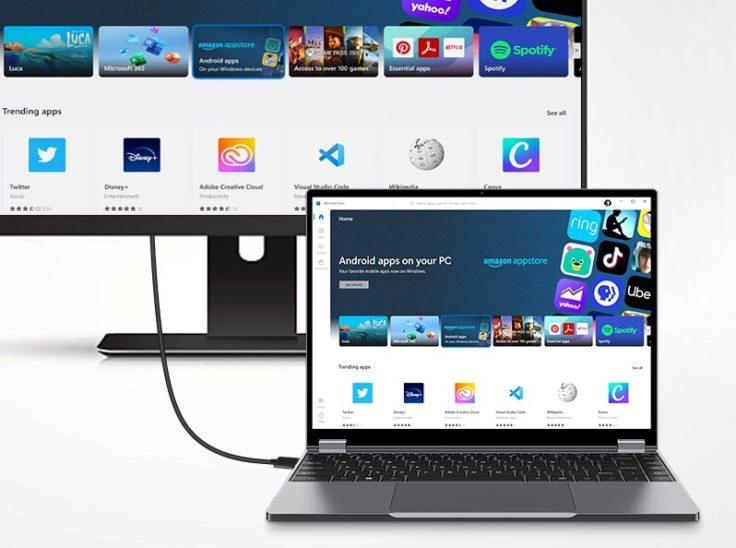 If you have charged the 38 Wh battery of the notebook, the FreeBook should last up to 8 hours . Of course, it depends on the type of use.
You also need an operating system, here you use the latest Windows 10 Home . If you want to switch directly to Windows 11, you can do this with a free update.
assessment
At the core of the hardware, the Free Book is very similar to the LarkBook X . Differences emerge here in the product design. Here we get a quiet convertible , which is certainly good for taking notes and working thanks to its display. With the LarkBook X you have a more classic notebook. Hopefully you can make a good compromise when it comes to cooling, because a quiet notebook with performance problems isn't really helpful either.
Is a whisper-quiet notebook important to you or can a fan hum easily?