News
Voyo Vbook V1, choose your operating system.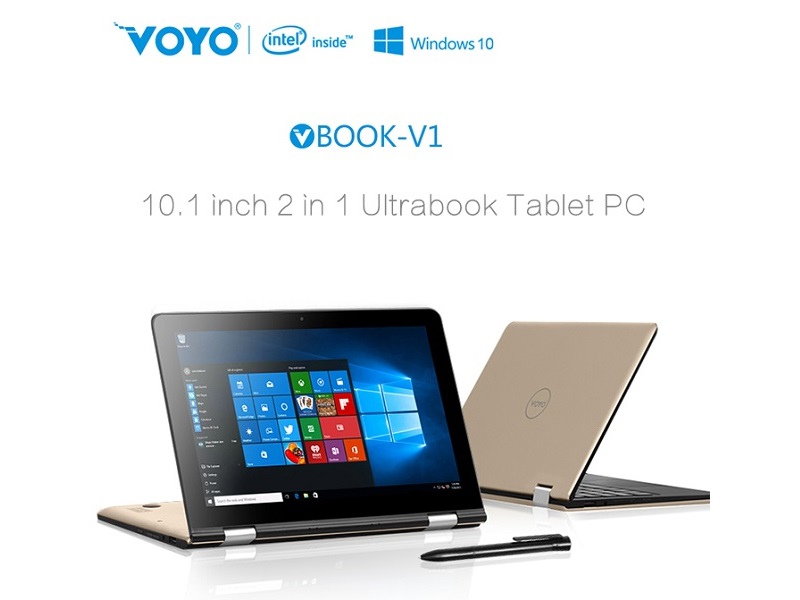 Again comes the turn of talk about models of hybrid devices , convertibles or "2 in 1" that are becoming major tenders in several of the recognized online stores. In this case Voyo Vbook V1 is the highlight of the day thanks to an interesting mix of specifications, design and ease of use equipment.
Voyo Vbook V1 is a team that can function as both tablet and laptop for any activity that users typically do from your desktop PC. To do a full Windows operating system includes, besides the possibility of adding the Android platform for those who also want to have fun with multiple applications or mobile games.
Technical Characteristics Voyo Vbook V1
VOYO VBOOK V1
DESIGN
Dimensions
25.00 x 18.00 x 1.30 cm
Weight
790 grams
Colors
Gray, silver, gold and pink metallic
SCREEN
Display Technology
IPS Capacitive
Dimension
10.1 inches
Resolution
1280 x 800 pixels
multitouch
if
PERFORMANCE
Processor
Cherry Trail Z8300 to 1.44GHz Quad Core
RAM
4GB
MEMORY STORAGE
Capacity
32GB
SD slot
If, microSD up to 128GB
OS
Version

Windows 10 / Windows 10 + Android 5.1

CAMERA
Resolution
2MP
Maker
Unknown
BATTERY
Capacity
9000 mAh
quick charge
Do not
CONNECTION PORTS
loading port
2 x Micro USB
HDMI
if
Headphones
If (mini jack 3.5mm)
CONNECTIVITY
Wifi
Yes, 802.11 b / g / n
Bluetooth
If, 4.0
GPS
Do not
NFC
Do not
OTHER FEATURES
Spanish Language
if
Box contents
1 x Voyo Vbook V1, 1 x Power Adapter
Design V1 Voyo Vbook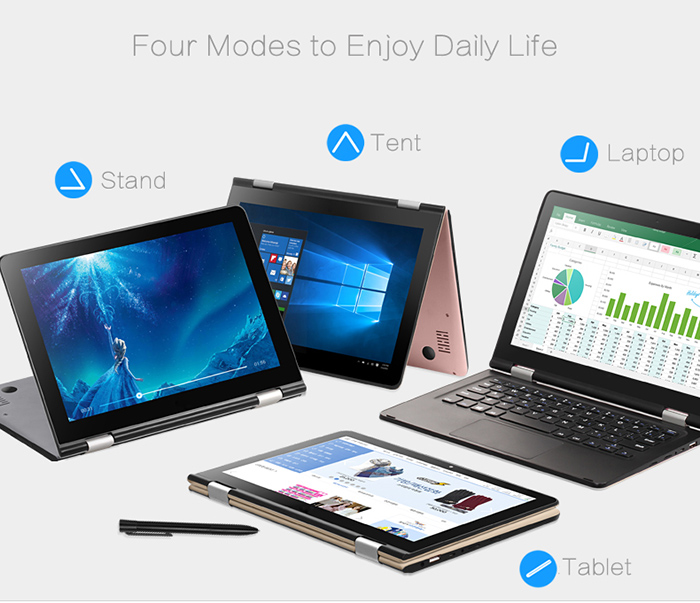 First it is important to emphasize the design format chosen for this convertible, because unlike many alternatives that complement a separate screen with a keyboard through a coupling system (usually via magnets), here has chosen tokeep forever these two elements together and facilitate movement of 360 degrees .
Thus, the screen and keyboard can function as a traditional laptop or completely kowtow to adopt the tablet format (although with a logical thicker). Even this keyboard can be a base or support for the panel to stand upright and thus facilitate the experience of playing videos or interaction with one hand.
As for its overall dimensions are 25.00 x reaches 18.00 x 1.30 cm and at a weight of 750 grams . Meanwhile the rear area gives the feeling of being in a model of high quality and metallic materials that make it appealing to the eye, even with four varieties of colors : gray, silver, gold and metallic pink.
Technical Specifications Voyo V1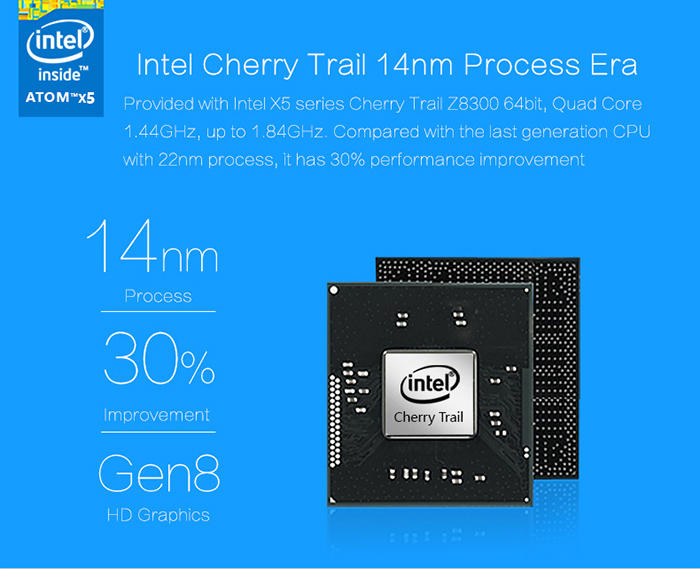 If you followed some of the latest models of tablets and "2 in 1" analyzed in recent times surely the hardware Voyo V1them highly known sound. It is that its leaders have chosen as processor and graphics elements that are widely used indevices with Windows 10 seeking optimal performance but not too much power.
More precisely, the SoC is an Intel Z3800 Cherry Trail of the X5 Series with 64 – bit architecture and runs on quad -core frequency ranging from 1.44 GHz to 1.88 GHz's. Being manufactured in a 14 nanometer process performance is achieved above 30% over previous models of 28 nm.
Moreover, he complements a GPU Intel HD Graphic Gen8 , RAM 4 GB space of internal storage of 64GB with ability to expand via microSD card up to 128 GB. Regarding its capacitive screen, it remains in a size of 10.1 inches with a resolution chord of 1280 x 800 pixels .
In addition, not missing a front 2 megapixel camera for video calls, Wi-Fi 802.11 and Bluetooth 4.0 or ports for headphones, microphone, USB 2.0 and 3.0 and even HDMI micro to move the image to any TV or monitor in full resolution 4K . Regarding your battery , they manage to incorporate a capacity of 9000mAh which is excellent to provide many hours of normal use or continuous playback of audiovisual content.
Differences Voyo Vbook V3
Previously we analyzed in the same way the model specifications Voyo Vbook V3 , which logically is a product of the same catalog of this Asian brand with some important differences to consider. The highlight is undoubtedly its biggest IPS screen , 13.3 inches with Full HD resolution and touch support up to 10 points.
However, the overall design is almost identical (keeping the connection between panel and keyboard) despite being sold in another range of colors, while the internal specifications are exactly the same . It is also why the price will not go beyond the $ 50 difference.
Other aspects have liked
As we reported at the beginning of the article, the sale of V1 Voyo not only includes a version with Windows 10 full Home , but also a model dual boot in which the user can choose whether to run the Microsoft platform or directlyAndroid 5.1 . In these cases, although a greater internal storage space is consumed by having two OS installed, more possibilities of use are included.
Thus, using this computer as a portable or " ultrabook " is advisable to take advantage of the Windows experience with all available specialized software or programs developed for trackpad. However, if given a touch more casual use, perhaps the Google system with thousands of apps and free games provided by Play Store is the best choice.
Finally, Voyo Vbook V1 has a SIM slot that allows receiving calls, SMS or run Apps like WhatsApp in tablet mode, even without support for browsing the Internet using mobile data. Also, available is a touch pointer to write or draw on the screen with more precision, although it is an accessory that comes included factory.