Deals
Best 5 Chinese dual boot tablets with comparision
The dual-boot tablets give us the best of two platforms, on the one hand, Android , with all its applications and popular games; on the other hand Windows, which offers compatibility with the favorite x86 applications. Special thanks to Microsoft for making Windows 10 compatible with tablets that cost under 200 euros. And with the dual boot in the tablets, users are now increasingly getting the sense of having their office and multimedia features in their bag. You have to simply connect a keyboard and mouse to have a light and portable gadget that allows you to work literally at any place by providing you a mini PC to edit texts, images, databases, surf the net or casually play games with low graphic settings.
It has never been so easy to have this level of versatility in the gadgets we own. Let's see the best 5 Chinese dual boot tablets with Windows 10 in detail and examine thier features, performance and price. The great tablets from Design to Booting! 😀
Chuwi Hi
Onda v891
Teclast X98 Air 3G
Onda V919
Teclast x98 Pro
Chuwi Hi8 8-inch Full-HD
This is not the first time we are seeing Chuwi Hi8. This the latest tablet from Chuwi that is the successor of Chuwi Vi8. It won't be wrong to call this a pioneer of dual boot tablets.
Specifications of Chuwi Hi8
Display: IPS Panel MagicColor 8 inches with resolution 1920 x 1200 pixels.
Processor: Intel quad-core Z3736F 1.33-2,16Ghz (turbo mode).
GPU: Intel HD / 313 MHz-646 MHz
RAM: 2 GB RAM DDR3L-RS 1333 Mhz.
Internal Storage: 32GB, expandable up to 64GB via Micro-SD.
Rear Camera: 2-megapixel.
Front camera: 0.3 megapixels.
Connectivity: Wi-Fi 802.11 b / g / n, Bluetooth, USB 2.0 OTG, 3.5 mm headphone output.
Operating system: Android 4.4 KitKat + Windows 8.1.
Image formats: JPEG, BMP, PNG.
Music Formats: MP2, OGG, WAV, WMA, AAC.
Video Formats: MP4, WMV, 3GP.
Office formats: Word, Excel, PPT.
E-book formats: PDF, TXT
Battery: 4,000 mAh.
Additional features: Light sensor, alarm, Wi-Fi, Calendar, Gravity Sensor, E-book, calculator, MP4, MP3.
Dimensions: 21.1 x 12.3 x 0.8 cm.
Weight: 0.304 kg.
Package Contents:

1 * Tablet PC
1 * OTG Cable.
1 * Charger.
USB Cable: 1 * Micro-USB.
Manual: 1 * Manual in English.
As you have got a detailed analysis of the tablet, we will try to mention its most important features.
Chuwi Hi8 offers a more pleasing design than its predecessor, it has finished metal edges and a rugged plastic for easy grip.
The main point in favor of this tablet is its excellent 8-inch screen with full HD resolution of 1920 * 1080 pixels (283ppp), which offers superior brightness levels (350 cd / m2) and good color.
In terms of camera,  we have a front camera of 0.3 MP and 2 MP rear camera without flash, which offers only average quality photos in good light conditions.
A feature that Chuwi Hi8 offers the best is the connectivity. It provides us the useful HDMI port, micro-USB OTG, Bluetooth 4.0 and miracast
The Soc of Chuwi Hi8 integrates Intel Atom Z3736F @ 2.16 GHz, a small revision compared to Vi8, but its worth to note that its turbo frequency gives a boost upto 2160 Mhz. It comes with 2 GB of RAM that manages to handle both the Android and Windows with fluency.
In terms of software, we have a partition for Android 4.4 KitKat (do not know if updated to Android Lollipop) and another for Windows 8.1 which we have to update to get Windows 10.
Android comes without modifications or customizations which gives us 7GB of free space. It can be expanded if you uninstall the preloaded Chinese apps.
Windows 8.1 comes with a complete license for Office 365 which extends the potential of a tablet into a laptop.
Like many of you might have thought, the internal memory is narrower to accomodate two operating systems. So we have to use Micro-SD slot or micro-USB with intelligence to extend the memory and make it available while downloading new files.
The battery has a capacity of 4000mAh, and offers us four hours of average use with 40% brightness and the WiFi enabled.
Buy Chuwi Hi8 Android 4.4 + Win10 Tablet PC from gearbest.com for $88.94
Buy Chuwi HI8 Dual Boot Tablet from banggood.com for $89.49
Buy Chuwi HI8 Dual Boot Tablet from geekbuying.com for $89.99
Onda V891 with 8.9 inch HD screen at an unbeatable price.
If 8 inches screen of Chuwi Hi8 falls short, you might want to give your attention to the next tablet, Onda V891. It is one of the almost 9 inches dual boot tablets that you can get for just over 100 euros.
Let's see the specifications of Onda V891
Display:  8.9 inch IPS with resolution of 1280 x 800 pixels (169.60 dpi) / 10 multitouch points.
Processor: Intel Z3735F quad core 1.33-1.83Ghz (turbo mode).
GPU: Intel HD / 311 MHz-646 MHz
RAM: 2 GB RAM DDR3L-RS 1333 Mhz.
GPU: Intel HD (Gen7).
Internal Storage: 32GB eMMC , expandable to 128GB using Micro-SD.
Rear Camera: 2-megapixel.
Front camera: 0.3 megapixels.
Connectivity: Micro-HDMI, micro-USB, Wi-Fi 802.11 b / g / n, Bluetooth, USB 2.0 OTG, 3.5 mm headphone output.
Operating system: Android 4.4 KitKat + Windows 10 .
Image formats: PNG, JPEG, GIF, BMP.
Music Formats: AAC, MP3, WAV
Video Formats: MP4, AVI, 3GP
Office formats: Word, Excel, PPT.
E-book formats: PDF, TXT
Languages: Russian, German, Italian, French, Dutch, English, Portuguese, Spanish.
Battery: 5400 mAh (5 hours video playback).
Additional Features: HDMI, Bluetooth, Browser, Light sensor, alarm, Wi-Fi, Calendar, Gravity Sensor, E-book, calculator, MP4, MP3, microphone, speaker.
Dimensions: 22.5 x 13.5 x 1.0 cm.
Weight: 0.412 kg.
Package Contents:
Tablet PC
OTG Cable
Charger
USB to Micro-USB cable
English Manual
It is not the first time that we are speaking of Wave , as it is one of the manufacturers who launch low cost tablets into the market, and they are well received by users.
The Onda V891 is not the most powerful dual boot tablet put up by this manufacturer, but it combines the large size display and dual boot advantage. Also it comes installed with Windows 10, so you don't have to update the O.S like in Chuwi tablet. But unfortunately, it seems that manufacturers are reluctant to go beyond Android Kit Kat 4.4, this tablet uses it as well.
We appreciate the design of Onda V891. It has a thickness of 1cm and weighs 412 grams. The thickness of the frames is very similar to the Chuwi Hi8, with the sides being quite thin than the upper and lower frames.
On the right side we find the power and volume button and on the left side we can see the Micro-SD card slot.
On the top we see an essential micro-USB slot and always helpful Micro-HDMI port that is not available in Chuwi Hi8.
On the back, we have a rough finish with concentric circles that feels very good on hands and gives a fair grip. Over it is a logo and a rear camera of 2 MP which gives average quality photos, like in Hi8. We also have a mono speaker at the bottom right.
In the front , we have the Home button, which only runs while using Windows and 0.2 MP camera.
Speaking about the quality of display, the colors used are quite natural, but with a tendency of over-saturation which is a characteristic of an IPS AMOLED panel. Despite not having a high resolution, the phone has a sharpness that is quite adequate for this size. Its tactile feedback is good.
We have not much to say about the processor ( Intel Z3735F ), because it is almost the same SoC used in Chuwi Hi8, but with a maximum frequency of 1.83 GHz under Turbo boost, we will not have trouble working with HD display mode. We also have 2GB of RAM that allows very smooth operation under both Windows 10 and Android 4.4. We also have a OTG connector that allows us to use a mouse, keyboard, printer or other peripheral that operates under USB.
The total 32GB of storage (expandable to 128GB) is divided into two partitions.
The Partition with Android is more personalized than in Chuwi because it makes use of an application drawer interface without the purest MIUI style. It has a standard ROM that comes installed with Google Play. Notifications bar is divided into two parts, the left part meant to show notifications and the right shows some quick settings. This partition is about 7 GB of which 6 GB is available to us.
The partition with Windows 10 comes in English and Chinese languages, but this can be easily changed from the settings panel. The ROM is loaded with one year licensed Office 365. One way to free up some space is to disable hibernation (also used for Chuwi Hi8), for this you have to open the command console and write " powercfg.exe / hibernate off ". The Windows 8.1 version of the tablet leaves 5.6 GB of free space, I do not know how much of space is left in the latest version Windows 10.

The battery has a capacity of 5400mAh and gives us something better than that of Hi8 ( 5 hours while watching videos ), thanks to its extra capacity, less powerful processor and lower screen resolution. A feature that favors this dual boot tablet is the guide provided which helps in solving common problems that occur after updating Windows 10, also very useful if you have Windows 8.1 version.
Buy Onda V891 Dual Boot Tablet from banggood.com for $118.99
Buy Onda V891 Dual Boot Tablet from tinydeal.com for $100
Teclast X98 Air 3G, 9.7 inches.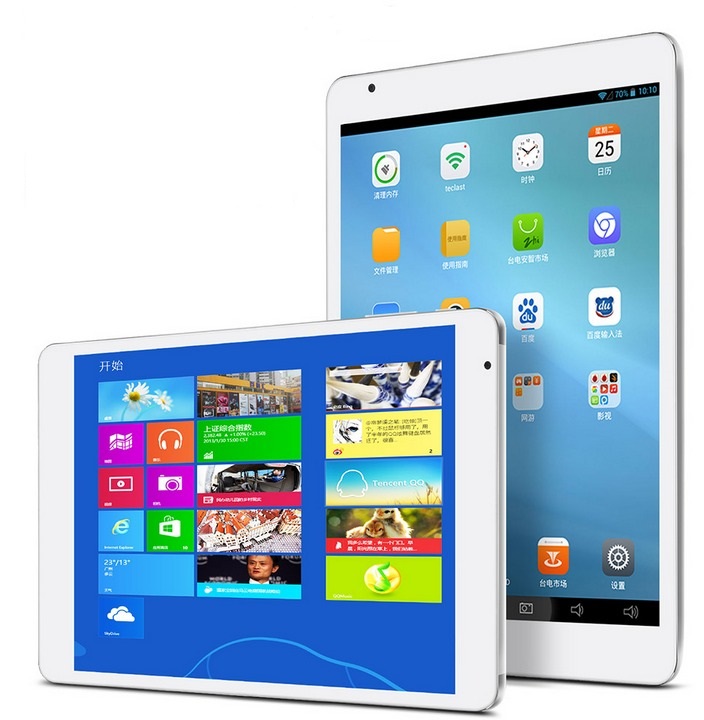 Teclast X98 is a tablet that has been the bestseller because of its wide display of 9.7 inches, good power, GPS, and 3G connectivity. Again, it is available at a reasonable price of below 200 euros.
Let us see the specifications in detail
Display:   9.7 "IPS Retina, 2048 x 1536 pixels / 60Hz / 264 PPP / 4: 3 .
Operating System: Android 4.4.2 and Windows 8.1 / 10.
Networks: WCDMA 900 / 2100MHz and GSM 900 / 1800MHz.
CPU: Intel Bay Trail Z3736F 64 bits @ 2.16GHz.
GPU: Intel HD Graphics.
RAM: 2GB DDR3.
Storage: 32GB eMMC memory (microSD up to 64GB)

Camera: Rear 5MP and front 2MP .
Bluetooth: 4.0.
WiFi: 802.11b / g / n.
GPS: Yes.
WiDi Wireless Display.
Tickets: Micro-USB, 3.5mm Jack, Micro-HDMI.
Slots for Micro-SIM cards and Micro-SD.
Battery: 8500 mAh.
Weight: 498 grams.
Here is a short overview on this dual boot tablet
-1. Design, construction and connectivity: The Teclast X89 Air 3G is very light in weight, 489 grams, considering that an iPad 3 weighs 650 grams. Also users tend to be comfortable with its nearly 10 inches screen. The build quality of the tablet is very good. It has a rear made with gray aluminum which comes with a rough finish for easy grip and helps to dissipate the heat generated by the processor.

We have two cameras , 5MP rear which allows fairly decent shots and a 2 MP front that suites well for video conferencing. This is a major improvement over the two tablets we saw before. For connectors we have Micro-USB (OTG), an 3.5mm audio jack and Micro-HDMI video output, as well as slots for SIM and Micro-SD cards. The tablet also has 3G, GPS navigation, and bluetooth 4.0 connectivity.  The Bluetooth works properly with Bubble UPnP. Telecast X89 supports miracast, which can be activated from the setup menu.
One thing we like is that the frame of the screen is very small , just 9.4 mm on the sides, and quite tight at the top and bottom, which makes this tablet is not extremely large.
-2. Display: This is definitely one of its strengths. The IPS retina display with 2K resolution of 2048 x 1536 pixels supports wide viewing angles, sharpness, and color reproduction, but suffers from some lack of brightness in outdoor environments under strong sunlight. Some users report a slight tendency to yellow, but we believe this depends rather on the panel to mount our unity. The sensitivity and response to touch of this tablet is also excellent.
-3. Software: While Telecast X98 being a dual boot tablet it incorporates both Windows and Android. Users can choose with which to work through a simple menu while starting the tablet. We have the Windows 8.1 that is upgradeable to Windows 10, but these tablets are now coming with Windows 10 itself. For Android the tablet is loaded with 4.4 Kit-Kat, but we can update it through OTA service. 

-4. User experience and performance: The Z3736F still does a good job here, though it suffers when playing games, which must be configured with a resolution lower than Full-HD if we want to have a good flow. The system boot is fast (about 20 seconds), and Android launcher is similar to that used by the iPad. Still, it seems that any alternative launcher as Apex, Nova Launcher or Go will provide a better flow when operating under Android environment. Most chinese preloaded apps can be manually uninstalled and some can be blocked or removed from the tablet.

Working under Windows is very smooth, the transitions between menus and applications is fluent. The 2GB of RAM provided in the tablet does help to achieve this.
To give you some performance data, here are the results taken from the performance test. It gives us a rough idea of Chuwi Hi8 vs. Onda v891.
Antutu Benchmark: 31725 points.

Vellamo Metal: 1291 / HTML: 2292.
Extreme 3DMark: 7246 / Unlimited: 14242
GFX Bench: 701 / 15fps (onscreen 2048 × 1536) – 946 /19.2fps (offscreen 1920 × 1080).
 -5. The internal storage of Teclast X98 Air 3G tablet has a 32 GB space which consists of eMMC memory partition that gives good performance. The speeds of sequential read and write are 133MB / s and 60MB / s respectively.
 -6. Sound : The two stereo speakers deliver a "normal" audio quality. The microphone is optimal to receive and make video calls.
-7. Battery: One of the strongest points of this dual boot tablet is the battery which has a capcity of 8500 mAh. It offers backup up to 9 hours while watching HD videos with the brightness kept at medium level and upto 5.5 hours when you are busy playing intensive games or using internet applications. The special cooling system keeps the battery around 30 degrees while the video is playing. But we will notice the heat on the back cover if we firmly hold the tablet.
One drawback is the loading speed, which is quite slow and users have experienced that they need a strong internet connection to open the webpages fast. Without a doubt, the Teclast x98 Air 3G is one of our favorite dual boot tablets. But the tablet is more expensive and provides outstanding performance.
Buy Teclast X98 Air 3G Tablet PC from aliexpress.com for $199
Onda V919: one of those dual boot tablets that resemble an iPad.
Like the Teclast X98 Air 3G, Onda decided to draw features from an iPad Air for its 9.7 inch tablet, but definitely the final result is slighty differrent compared to the Teclast X98 Air 3G.
The formula used includes 9.7-inch IPS Retina screen, a resolution of 2048 × 1536 pixels, Intel Atom SoC Z3736F and 2 GB of RAM to support Android and Windows.
Lets look at the specifications
Display : 9.7 inch IPS 2048 × 1536 pixels (264ppi)
Processor: Intel Atom Z3736F four 64-bit cores and a 1.3GHz (turbo up to 2.16GHz)
RAM: 2GB DDR3L
ROM: 32 / eMMC 64GB of internal memory (expandable through Micro-SD cards up to 128GB)
Cameras:
WIFI: 802.11 b / g / n
Bluetooth 3.0 High Speed ??BT / BT 4.0 LE.
OTG: Yes.
Networks:

WCDMA 3G UMTS / HSPA / HSPA + (2100/850/1900 MHz).
GSM / GPRS / EDGE (850/900/1800/1900 MHz).

Video:

4K HD (MP4 / 3GP / 3G2 / RM / RMVB / ASF / FLAC / APE / MOV).
1080P (AVI / MOV / MP4 / RMVB / FLV / MKV).

Audio: MP3 / WMA / WAV / APE / AAC / FLAC / OGG.
Ebook: UMD, TXT, PDF, HTML, RTF, FB2
Battery : 7000mAh.
Additional Features: Capabilities call and 3G connection with slot for Micro-SIM cards, gravity, Play Store, email, browser sensor.
Dual-boot with Windows and Android
Dimensions: 240 x 170 x 7.85 mm
Weight: 496 grams.
Package Contents:

1 x Onda V919 Dual Boot Tablet.
1 x USB cable.
1 x Charger.
Like we did with the Teclast X98, we will try to summarize the qualities of Onda V919
  -1. Design: La Onda V919 is extremely similar to Teclast X98, with almost identical frames, but with minor differences in the form of location of front camera which is at center instead of being at left as in the case of Telcast X98.
Next like in the Onda V891, V919 also has a home button but uses a Windows logo instead of Apple sign on it. The rear camera of Onda V891 is no longer in the center (as in the Teclast X98), but is located on the top left. One thing that is improved in both Onda V919 3G Air and the Air Teclast X98 3G is the fact that the power and volume buttons are made of plastic, not aluminum. We have a "hole" on the right side below the power and volume buttons to make a reset during emergency which is something very interesting and not present in any other tablets.
At the top we can see the 3.5mm headphone jack, while on the bottom we can find a microphone, two speakers and a Micro-USB port . Maybe we like the sound in the Teclast X98 better because the speakers are easier to get covered when holding this tablet.
The weight of the Onda V919 is less than 500 grams and its screen size can be almost traced back to the Teclast X98 Air 3G. So, if we use the both hands, this tablet wont be tough to handle.
-2. Display: As with the Teclast, this tablet has a IPS panel that offers good color, viewing angles and adequate levels of maximum brightness, although it is scarce under strong sunlight. The screen responds well to presses (up to 10) and 264 dpi offers excellent sharpness to a normal viewing distance.
-3. Software: Like the other tablets that we discussed before, this dual boot tablet incorporates 2 separate operating systems, Windows 8.1 upgradeable to Windows 10 and Android 4.4.4 KitKat, which also makes use of a proprietary layer of customization. Again, this is an imitation of the design of the Apple OS. If you like to have a pure Android experience, we recommend installing launchers like Apex or Nova. The feature to switch between operating systems is identical to the above tablets. We can find a shortcut in the taskbar when we are on Windows and a button  in the shade notification bar if we are using Android.
One drawback is the excess preinstalled applications or Chinese bloatware. Fortunately, we can either remove or block them.
-4. User experience and performance: SoC in the Teclast X98 and Onda V919 are almost identical. There is not much to say anything different regarding its performance. But we got a slightly higher performance scores which suggests us that it has a better optimization of ROM over Android
3DMark (Android), Ice Storm Unlimited: 14550 points
PCMark (Android) Work performance: 4640 points
AnTuTu Benchmark v5.6: 33450 points
Vellamo, Chrome: 2690puntos
Vellamo, Multicore: 1340 points
Vellamo, Metal: 1280 points
Compared to all other tablets we have seen, Onda V919 running on Windows is very good, you can use any Windows application, browse, watch videos and documents and play undemanding games with optimum performance. The limit is usually put up 2GB of RAM, which we will be scarce if we simultaneously open many programs and applications
This tablet has a 2MP front camera and 5MP rear, like the Teclast X98. The quality of the camera is "regular" nothing remarkable. But it fits to click some casual photos.
-5. Battery: I would say that is the main weakness of the Onda V919. While Teclast X98 manages to have a 8500 mAh capacity in a 7.5mm thick battery, the OndaV919 has a lesser capacity of 7000mAh in a 8mm thick battery stays in 7000mAh. For a 10 inch tablet this battery would provide less battery backup for sure.
With average use , this battery offers between 4 to 5 hours backup, in contrast to the more than five hours offering Teclast X98. If we use heavy applications or play games, without reboots, the battery will hold about 4 hours. We are talking about 1½ hours difference which is not a small thing.
-6. The sound: along with the battery, sound is another weak point of this tablet. Besides the speakers are easy to get covered when using the tablet in landscape mode, its power level is somewhat lower than desirable. Both the microphone and headphone output work smoothly.
We like the Onda V919 3G Air because it gives us the little more performance with its Intel Atom Z3736F, although the less powerful battery and lack of HDMI upsets us to a certain extent.
Teclast X98 Pro: Improvment of one of the best dual boot tablets
From a long time it was expected that Teclast will pull out a successor of X98 3G Air. Although this didn't happen in its entirerity, the pro version of the X98 is now out. It means the manufacturer has done some improvements to the dual boot tablet without having to discontinue Telcast X98 Pro. The company even though keeps the name almost the same, it has done some noticeable improvements. The users who like to have 3G support in their tablet would like the pro version of X98.
The X98 Pro repeats much of its predecessor but there are some visible changes on its exteriors. The immediate change that you can see is reduced size of the side frames. The distribution of ports and slots is same as the older tablet version. At the bottom we have a Micro-USB connector, audio jack 3.55mm and a Micro-HDMI video output
The top and right sides remain completely smooth but on the left side we can see a volume button and Micro-SD slot at the bottom. Next to them is a microphone for voice calls. On that side we miss the SIM card slot for the  Teclast X98 Pro because it is not 3G supported tablet
We have a 2MP front camera located on top left, and rear 5 MP located on the top right, embedded in the white plastic part. In this rear, we also found two stereo speakers at the bottom.
Detailed specifications of Teclast X98 Pro
Display: 9.7 inch IPS QXGA 2048 x 1536 resolution.
Processor: Intel X5-Z8500 quad core at 2.24 GHz.
GPU: Intel HD Graphics Gen8.
RAM: 4 GB.
Internal memory: 64 GB expandable to 128 GB Micro-SD.
Operating system: Windows 10 / Android 5.0.
Rear Camera: 5 MP.
Front Camera: 2 MP.
Connectivity: WiFi 802.11 b / g / n, Bluetooth.
Connectors and slots: Micro-USB, Micro-HDMI, 3.5mm headphone jack, memory card slot.
Battery capacity: 8000 mAh.
Battery life: up to 5 hours use.
Supported image formats: JPEG, GIF, PNG, BMP.
Supported music formats: OGG, WMA, AAC, MP3.
Supported video formats: 3GP, WMV, AVI.
Supported formats Office: Word, Excel, PPT.
Dimensions: 239 x 169 x 8 mm.
Weight: 526 grams.
Package Contents:

1 x Teclast X98 Pro
1 x USB Cable
1 x Charger
1 x Cable OT
1 x User Manual.
While focusing on the differences , the first thing we noticed is that the Teclast X98 Pro makes use of the new generation Intel Atom SoCs, leaving behind the "Bay Trail" platform.The pro version has "Cherry Trail" Soc made of 14 nm "tri-gate" transistor which improves the energy consumption of the tablet.
The SoC of this tablet has a 4-core processor with 2 MB of L2 cache. Its frequency ranges between 1.44 and 2.24 GHz, so we see the increased performance, about 20 and 40%. The graphic section is where we see the noticeable improvements. Before the tablet had seventh generation Intel HD 4000 and now the new version comes with an eight generation Intel HD 5300 @ 600 MHz sharing the broadwell architecture that is usually used in the desktops. So, the graphics performance is increased up to twice and it helps while running games or applications.
Another feature that has considerably improved in the Teclast X98 Pro is the memory. The memory storage now can be expanded upto 64 GB and it eliminated the space problems. The RAM is rised from 2GB DDR3L-RS 1333 single channel to a Dual channel 4GB LPDDR3 memory @ 1600 megahertz. It doubled the bandwidth resulting a speed to 25.6 GB / s.
This is certainly something that will affect the multitasking performance of the tablet, as it will allow us to run applications with high memory consumption or to open more applications without lagging. Furthermore, that increased bandwidth will also improve the overall performance of several applications like WinRAR or games.
In addition, the Teclast X98 Pro boasts of using very fast flash memory, which will make the installation of applications and file transfer fluid, an aspect in which Chuwi Hi8 falls behind.
Compared to other tablets that we discussed, Teclast X98 Pro has an enhanced hardware that gives us almost the laptop experience.
And speaking of the user experience, this is the first tablet in our list that brings both the Windows 10 and Android 5 Lollipop O.S. We believe that theTeclast X98 Pro dual boot tablet is one of the best tablets with Windows 10.
Here are few screenshots providing you the performance info that were taken from Geekbench 3 and Antutu:
As you can see, the performance of the Teclast X98 Pro is not at all bad. It exceeds by 33% over other tablets in our list and matches the performance of a smartphone like One Plus One.
We have read and seen some sites where it is described that this tablet tends to overheat when playing games or watching high quality videos. But we also saw some sites where we are told that it is not something to worry about. We do not know to what extent these statements are true. It might be possible that the manufacturer has optimized cooling in the newer units.
The quality of camera and sound are the same as in the Teclast X98 Air 3G. Lastly we will talk about the battery. In this case the tablet slightly suffers as it has a capacity of 8000 mAh , but still will continue to provide about 5 hours of intensive use. We assume that the use of a more efficient SoC helps to compensate for the lower capacity.
Buy Teclast X98 Pro Tablet PC from gearbest.com for $231.19
Buy Teclast X98 Pro Tablet PC from banggood.com for $231.49
Buy Teclast X98 Pro Tablet PC from geekbuying.com for $250
Here we highlight the most interesting points of each tablet and give you an idea about what suites your needs and budget:
 100 euros category
The Chuwi Hi8 offers a 8 inches diagonal screen with Full-HD resolution, but lacks HDMI and its battery backup is lower. While Onda v891 provides extra 0.9 inches, for a bargain of lower resolution and less power. But provides us a Micro-HDMI port. If the buyer seeks power and screen quality, the Chuwi Hi8 is the right choice. If you prefer lower resolution, plus HDMI streaming then Onda V891 is your tablet that you can get for 100 euros .
200 euros category
Both Teclast X98 3G Air and Onda V919 offer very similar features at a price of below 200 euros. In favor of Onda V919 is its price and the possibility of expanding its memory storage up to 64GB. Also the performance is better than the Teclast X98 Air 3G. Teclast X98 Air 3G on the other hand excels by having a much better battery and a Micro-HDMI output. The price of this tablet is closer to 200 euros in some stores. Both offer us 9.8 inches, 2K resolution and 3G connection.
Finally, the  Teclast X98 Pro, with a price that is close to 250 euros does not include a SIM card slot, but in return it offers a more efficient hardware configuration, with an Intel Atom processor and 4 GB of RAM that will allow us to heavy multitasking without having to compromise with the user experience. In addition, its 64 GB of storage relaxes us from the worries of space problems. But again you can go upto 128 GB of storage by insersting a micro SDs.
That's all for this comparison review, we hope that you made your decision to buy the right tablet for yourself.