Deals
K8 3G SmartWatch: loaded with Power, Android, GPS and other features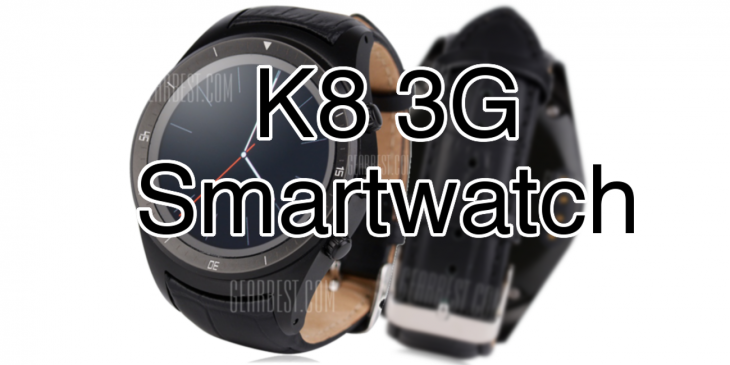 Just over a year ago. Motorola after collaborating with Lenovo launched Moto 360. The SmartWatch surprised everyone with it's round shape. Since then the competititors have often followed the same. For instance, LG launched smart watches with a circular design. But along with the big brands who have launched smartwatches, there are Chinese companies that provide dozens of these devices. Some of them incorporate features that the even the big brands have not yet included.
This time we'll talk about one of the Chinese smart watches that crosses the price boundary a little bit, it is the K8 3G SmartWatch. It has a circular design like the Moto 360 watch.
Design of K8 3G smartwatch
One of the main complaints we had about smartwatches, especially early models like the Samsung Gear, Pebble or Sony SmartWatch was their design that was far different from a normal watch. Something that makes people around stare at it and it is less desired for users. However, manufacturers considered the user requests and started to make smartwatches that look like regular watches , the best example would be the famous LG Urbane Watch.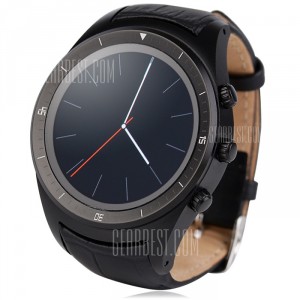 K8 3G SmartWatch is also made to look aesthetically pleasing. The smartwatch is built with aluminum case, which provides it a classy and simple look. It is ideal for day to day use. It includes three buttons for navigation and Android O.S that supports comfortable scrolls. Also, K8's screen has recorded marks and numbers that simulate the traditional watch look.
Another thing about K8 3G SmartWatch is it's strap made of leather (we are assured that it is 100% leather). If you do not like it, you can choose to change it to any other standard measure straps .
The strap is embedded with heart rate sensor and there is a standard MicroSIM slot which can be seen after opening the back cover.
Specifications of K8 3G SmartWatch.
Display:  1.4 "OLED 400 × 400 pixels
SoC: MTK6572 Dual Core 1.0GHz + Mali-400MP
RAM: 512 MB
Storage:  4GB
Software : Android 4.4 + with full customization.
Battery : 450 mAh
Sensors : Motion sensor, heartbeat and barometer
Connectivity: 3G and GSM  Wi-Fi, Bluetooth 4.0, GPS  (850/900/1800 / 1900MHz and 850/2100 respectively)
Available colors:  Black and gold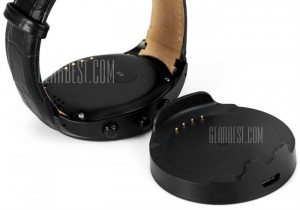 As you can see this is not an usual Chinese SmartWatch that we have seen many before. This smart watch levels with the devices produced by big brands. The hardware of SmartWatch K8 3G is same as the Xperia U or Samsung Galaxy J1, in terms of absolute power and amount of RAM.
Software of K8 3G SmartWatch
When Google launched Android Wear, it was thought to be a wearable system that depends on a smartphone for its functionality. This principle comes into play because of  hardware limitations. However, there are smartwatches with the hardware having similar power like some of the smartphones that run on Android. One such example is K8 3G that has enough power to run Android 4.4 with 512MB of RAM. It doesn't rely on a smartphone to function.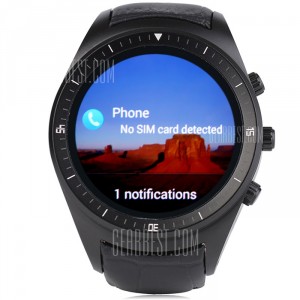 However we must not forget that although the power is the same, the devices are very different, which is why the operating system that equips the K8 3G SmartWatch is purely made for Smartphone. We found UI (User Interface) made of vibrant colors and round icons with same color scheme. Like expected, includes a custom launcher, that has no black bars at the bottom like those found in many round smartwatches such as No.1 S3, No.1 Sun S2 and DW360
The launcher has included two menus, desktop and application drawer. The desktop is where we find a watch face and shortcuts to applications, a widget for the music player and one for Health app.
In my defaults I have typical applications of a smartphone like downloads, browser, calendar, phone, etc along with Health similar to Google Fit (collects all the information on the pedometer and heart rate sensor), recorder audio, application time and Flappy Bird which is a simple game for a device like K8 3g SmartWatch.
Although we may complain about the layers of customization, in the case of K8 3G SmartWatch or any other device of this type, we would get used to it after some usage.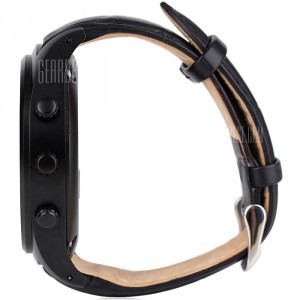 However, we must not forget the possibilities of Android, which provides greater freedom for accessiblity. It is useful in including the apps, we could install from the store like Amazon and Google Play Store.
Personally, on K8 3G SmartWatch, I would install application like Google Endomondo or Fit, a keyboard with voice control as an alternative launcher. I would not install any social network apps because they consume a lot of processing power. Finally I will choose an app as Tasker or IFTTT automation.
The K8 3G SmartWatch is a device with great power. And with this watch we have the ability to monitor our activities, manage notifications, have a constant internet connection or just do any things that you would do with your mobile
The possibilities are endless. Are you finding it uneasy to access internet from a phone SIM? Make your watch a wifi hotspot. As such, a thousand more, anything you can think of …
Availability and price K8 SmartWatch
As far as price is concerned, it is bit more than usual. The smart watches that are priced less usually have basic functions. But in this case, the watch is more complete and it affects the price.
You can find it for best price on Gearbest. You can use the promotion for your advanatage, use coupon "GBK8A" and get this watch for $ 120, original mrp is $129.9.
Buy K8 3G SmartWatch from everbuying.net for $125.99
Buy K8 3G SmartWatch from Gearbest.com for $125.99