Deals
Rwatch R11- Smart Watch with a Remote and Much more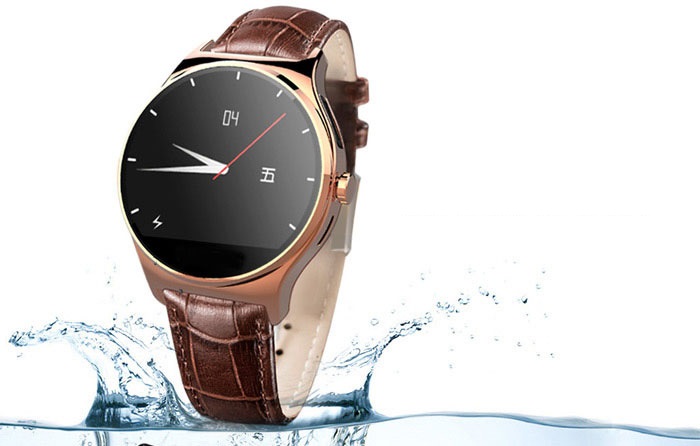 If you are a regular reader at XiaomiToday you could have guessed that we have fallen in love with wearables. We can not ignore the technology that is trendy and blends well with the latest fashion.
With many colors and designs of smartwatches available today you can choose one based on your style, budget and functions you want. After we last time saw the DZ09 smartwatch we are now showing another smartwatch, RWatch R11. This is a device that manages to suprise us with its interesting technology.
Design of Rwatch R11 SmartWatch
When we talk about the design of smartwatches in general, usually we get three types of shapes in mind, circular, square and rectangular. The circular watches are more pleasing than any other shaped watch, because it is a reminiscent of classic analog clock. In case of Rwatch R11, it is a very beautiful, elegant circular clock. When it is switched off it can easily be assumed as a traditional clock.
The standard of the strap used is an important aspect if we want to ensure maximum durability of the watch. But after long use, if there is any wear and tear in the strap, we can change it without any problem. You can do the same if you are bored of using one color and want to change its appearance during a season.
And speaking of colors, the Rwatch R11 is available in four different combinations:
Black and black dial strap
Brown and Golden dial strap
Black and silver dial strap
Brown and silver dial strap
This Smart Watch is 40 mm in diameter, 10.5 mm wide, 51mm in length excluding belt.
Like many other smartwatches, the design of R11 uses single lines and no buttons. It makes use of touch for all operations. On the left side of the watch, we have the microphone and USB jack, on the right side we have  infrared sensor, Power/Home button and speaker. On the top left of the back we have heart rate sensor.
Technical specifications of Rwatch R11
Screen: 1.22 inch IPS with resolution 240 x 240 pixels
Processor:

MTK2501

RAM memory: 32 MB
ROM memory: 24 MB
Water resistant:

Yes (IP67)

Connectivity:

Bluetooth 4.0

Battery: 220 mAh
Compatibility:

Android 4.3, iOS 7.0 and higher

Languages: German, Persian, Hebrew, Indonesian, Italian, Swedish, Finnish, Arabic, Spanish, Thai, English, Russian, French, Turkish, Portuguese and Polish.
Materials: stainless steel and leather
Dimensions: 40 x 51 x 105 mm (sphere), 18 – 22.5 cm (overall diameter of the belt).
Weight: 41 g
Package contents: 1 x Rwatch R11, 1 x charge cable, 1 x Manual in English
Main functions: Contacts, Make and answer calls, Messages, Remote control of camera and music, Remote control infrared monitor sleep, P[edometer, Heart rate, Reminder of sedentariness, Notifications, Alarm sensor, Compass.
RWatch R11 smartwatch serving as a remote
The new smartwatch Rwatch R11 brings the classic functions of the smartwatches alive: monitoring of physical activity and sleep, synchronization with the important functions of your phone, such as calling, messaging music and camera
But, what makes it different from the rest of the wearables? Or what are the features that convince us to buy this model over others?
First, biggest and likeable feature of the smartwatch is it's remote control. The infrared sensor in the remote control allows you to control your home devices like a usual remote control would do for you. But the difference is you can control more than one device using the same smart watch.
All the basic controls are covered. For instance, for TV you can turn it ON/OFF, control the volume and change the channels. The remote works with dvds, TVs and other electronic devices at home. The smartwatch actually gives you a super smart get up where lazily you can do control devices without giving multiple commands.
Now lets consider one of the important features that is interesting and very useful: the heart rate sensor. It is a key feature in the wearable that helps to improve the user experience and gives us more options in the field of health and physical activity.
Next highlight is Bluetooth 4.0. This version of bluetooth is an evolved version in a lot of aspects compared to previous versions. It is a type of low power connectivity that helps us to maximize our battery life.
Finally we mention the best use of Rwatch R11 SmartWatch that is for making or receiving calls. Many times we desperately look for our phone to make or receive call and not get it for some reason. With a smartWatch in hand, you dont have to grab your phone to make a call. You can dial on the Rwatch R11 and make a call via your phone located within 15 meters. This function is very useful in everday life and comes in this cheap smartwatch.
No.1 S3 VS Rwatch R11
The main difference between Rwatch R11 and No.1 S3 is the added SIM slot available in No.1 S3. Also like we saw before Rwatch R11 incorporates infrared sensor but No.1 S3 doesn't. The price is slightly higher in the case of S3 No.1, around $15 more. The variation in the cost musts be the result of added SIM slot in  S3 No.1. We think that SIM slot wont be of much use because as a standalone device, smartwatches are limited in their functionality. So you could choose smartwatch Rwatch R11 without hesitation.
Price and availability
Once again, Gearbest is the favorite store to buy the new Rwatch R11 smartphone. After the analysis we did, we know that it has interesting qualities and is available at a great price.
Buy RWatch from Gearbest for$35.99 with coupon:R11GB