News
Gionee GN152 unveiled on website as new budget alternative
The new Gionee GN152 has arrived, though not in the way you would typically expect.  The new entry-level phone was unveiled yesterday on the company's website, and it's now available for purchase for 699 yuan.
The GN152 got a very quiet release, with little fanfare to herald its arrival into the scene.  But with its debut, it now joins the double-sided S5.1 Pro, the dual-screen W900, and other interesting devices from the Chinese budget phone maker.  At 699 yuan, or about $110 USD, it's very affordable, though probably not as affordable as some may have been expecting.  Only the white version of the device is currently available for purchase as of this writing.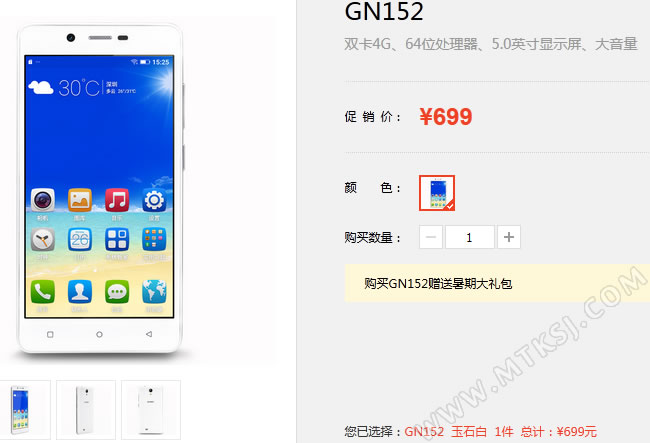 The Gionee GN152's specifications include a 5-inch display with 854 x 480 resolution, a 1 GHz Mediatek MT6735 quad-core processor with 1 GB RAM, 8 GB internal memory with microSD, a 2,400 mAh battery, and support for 4G and 3G.  Camera quality is a bit on the low side, with the rear camera sporting a 5-megapixel sensor and the front camera rated at just 0.2 megapixels.  The phone ships with Android 5.1 Lollipop and Gionee's Amigo 3.1 user experience.
Despite the rather underwhelming spec set, the GN152's UX does have its share of features, including a story lock screen, private albums, and more.  The cameras, furthermore, have motion blur, group shot, and other special settings, which allow them to offer more than your usual budget phone could.
With all that said, the GN152 does offer some good value for a device priced at 699 yuan/$110 USD.