Deals
Nova Doogee Y100X: When the design is everything.
Doogee is in full swing in the last week. Since Gizlogic we have spoken of Doogee F3 , theDoogee Valencia 2 Y100 Pro and Doogee S6000 . Doogee now presents a low cost terminal in the design and ergonomics take much prominence: The Doogee Nova Y100X.
Technical Specifications Doogee Nova Y100X.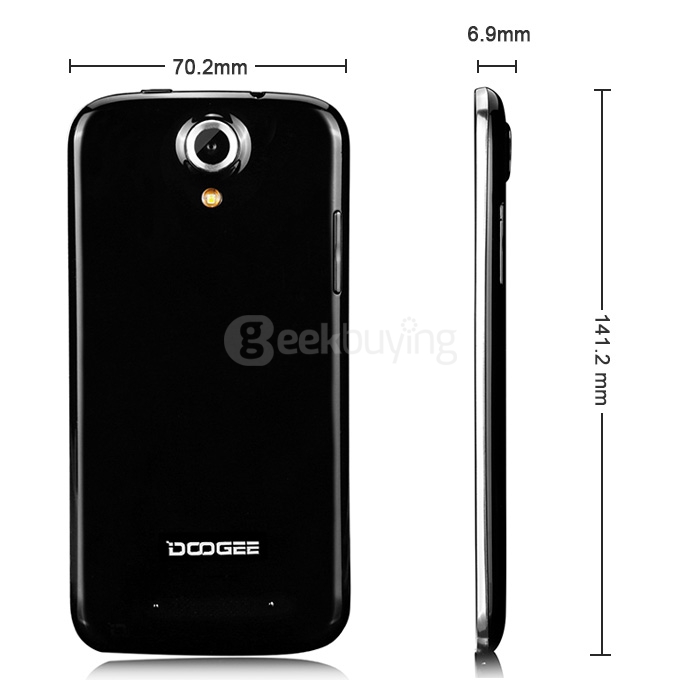 Nova Doogee Y100X appears as a terminal focused on the low end for those who do not want a high performance phone and do not want to spend more than 100 euros in the purchase of your new smartphone. Let your specifications:
Soc: MT6582, 4 núcleos Cortex A7 @1.3Ghz +GPU ARM Mali-400.
S.O: 5.0 Lollipop
Display: 5-inch 1280 * 720p / IPS 2.5D / OGS / Gorilla Glass 3/5 touch points / anti-fingerprint protection / 68% of floor space.
Bandas: GSM 850/900/1800/1900 WCDMA 850/1900/2100
RAM: 1GB LPDDR3
ROM: 8GB EMMC5.0 (6GB Free) / With MicroSD support up to 64GB.
Camera (s): Front of . 5MP Front compensated automatic lighting and LED flash / Rear 8MP Sony CMOS Exmor RS / Aperture f / 2.0 / Flash Led.
Image formats: BMP, GIF, PNG, JPEG
Formatos de audio: WAV, MP3, AAC, OGG
Formatos de vídeo: AVI, 3GP, WMV, MP4
Formatos de MS Office: Word, Excel, PPT
Formatos de E-book: TXT, PDF
Dual SIM: 2* Standby /Micro SIM+ SIM Estándar.
GPS: Sí /A-GPS
Bluetooth: 4.0 /A2DP.
CONTACT: S
FM Radio: Yes
NFC: No.
Sensors: Light, gravity, proximity, gestures.
Languages: English, Spanish , Portuguese (Brazil), Portuguese (Portugal), Italian, German, French, Russian, Arabic, Malay, Thai, Greek, Ukrainian, Croatian, Czech, Simplified Chinese, Traditional Chinese.
Battery: 2200mAh manufactured by Bak / Li-Ion.
Peso:119 g
Frame thickness : 1 mm.
Dimensions: 14.12 x 7.02 x 0.79 cm
Package Contents: 1 * Doogee Y100X / 1 Battery / Charger 1 * / 1 * USB Cable / 1 * Manual in English.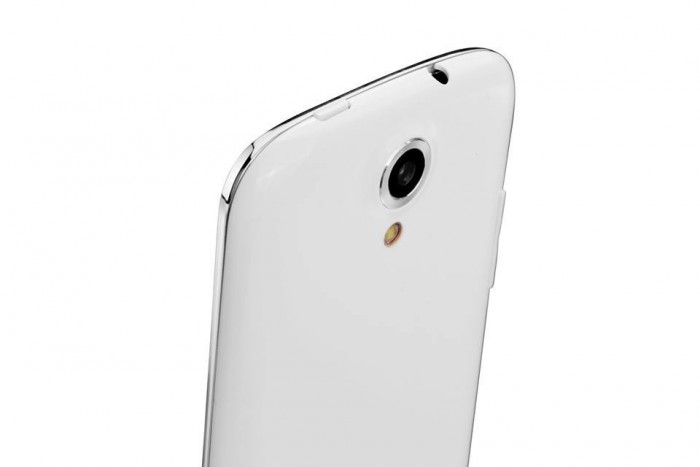 As we can see are treated in a fairly humble specifications aimed at those seeking a terminal for basic operation, and we have a SoC quad 4-core A-7 without support for 4G , 1 gigabyte of RAMand 8 gigabytes memory internal , fortunately expandable via SD card up to 64GB.
Still, its power we will be more than enough for the Android operating system to run smoothly, if not abuse of multitasking. According Kimovil, this terminal seems to reach up to 19,000 points in the performance test Antutu , something above 17000 points Moto G getting a first or second generation, so it is not a bad SoC after all.
Connectivity, despite the lack of support for LTE networks, is quite complete, and no shortage of support for Dual SIM (SIM full-sized and micro SIM) , Bluetooth, GPS, an ever welcome FM Radio, WiFi 802.11 b / g / n, Bluetooth 4.0 and GPS / A-GPS.
Its battery is 2200 mAh , which joined a SoC low power consumption, ensures a full day autonomy without problems.
Doogee Y100X Nova: beauty, ergonomics and strength are not incompatible.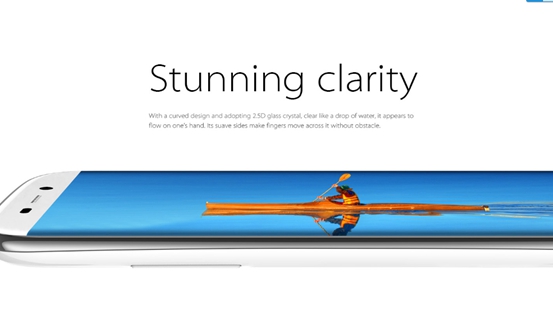 We assume that this is what I have thought since Doogee, because we have to recognize a credit to the new Doogee Nova Y100X, that of being a very beautiful and resistant to both terminal, a rarity.
For starters, a terminal focused sub-segment 100 euros we have a screen with 2.5D curved glass which also has Gorilla Glass protection in March , with more than enough 720p, although the first rumors indicated a lower resolution.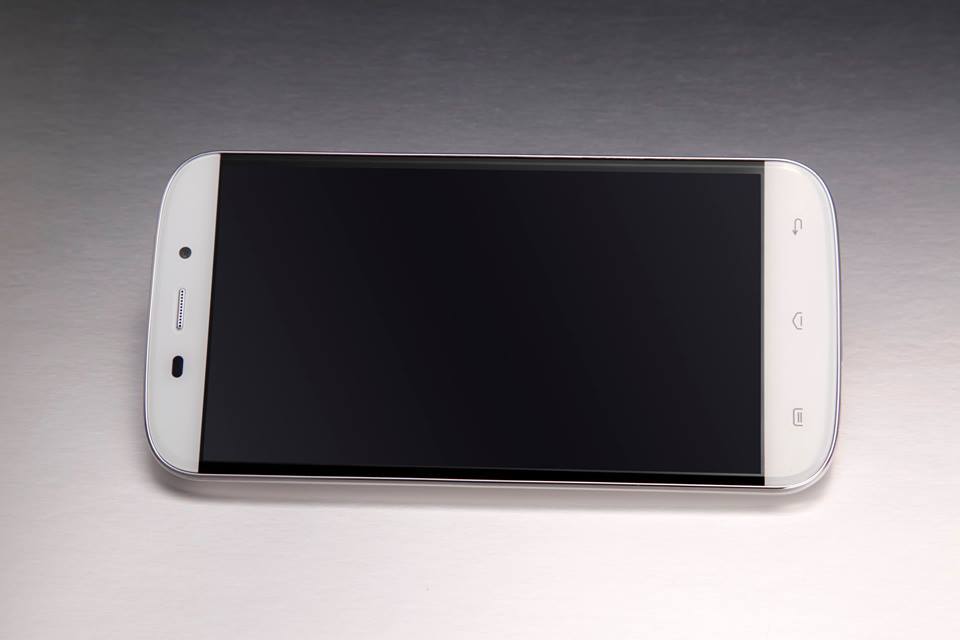 But also it is a terminal with a highly reduced side frames of only 1mm thick , a success by Doogee and it definitely introduces Doogee Nova Y100X in the list of our smartphones without frames.
But the originality of the design does not remain in the frame. The IPS panel has been galvanized to create a visual effect "borderless" , where, having the terminal off, can not distinguish the frame of the screen, giving the impression of lacking totally side edges.
Nova Doogee shape Y100X maintains a style design simple and curved, which gives elegance and also looking to get a nice feel in the hand , where raw usability.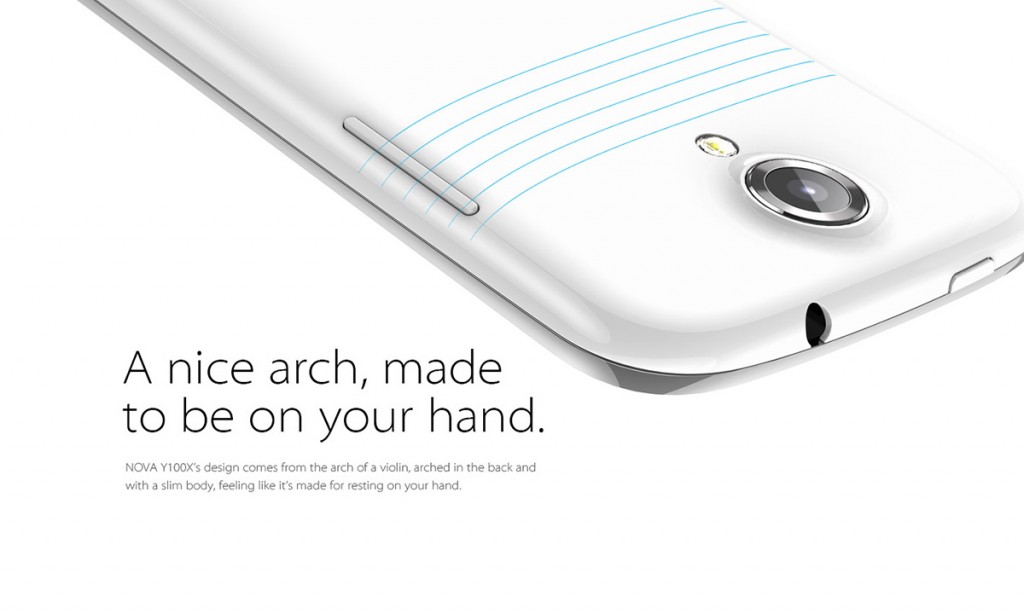 Doogee searched the terminal easy to pick up and put in your pocket, but also designed the terminal thinking that can be used with only one hand , something that many users claim.
Therefore, it has created a very clean design, where we can barely see buttons, because the volume control is at the back of the terminal, in the upper right side , making it easily accessible with the same hand that we take the smartphone. Moreover, the power button is just visible at the top, also accessible with one hand.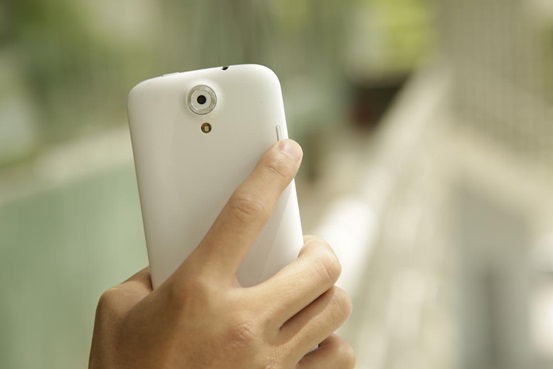 Doogee has also seen fit to apply a protective layer anti fingerprints and scratches, so in theory, Nova Doogee Y100X must endure well the "trot" daily.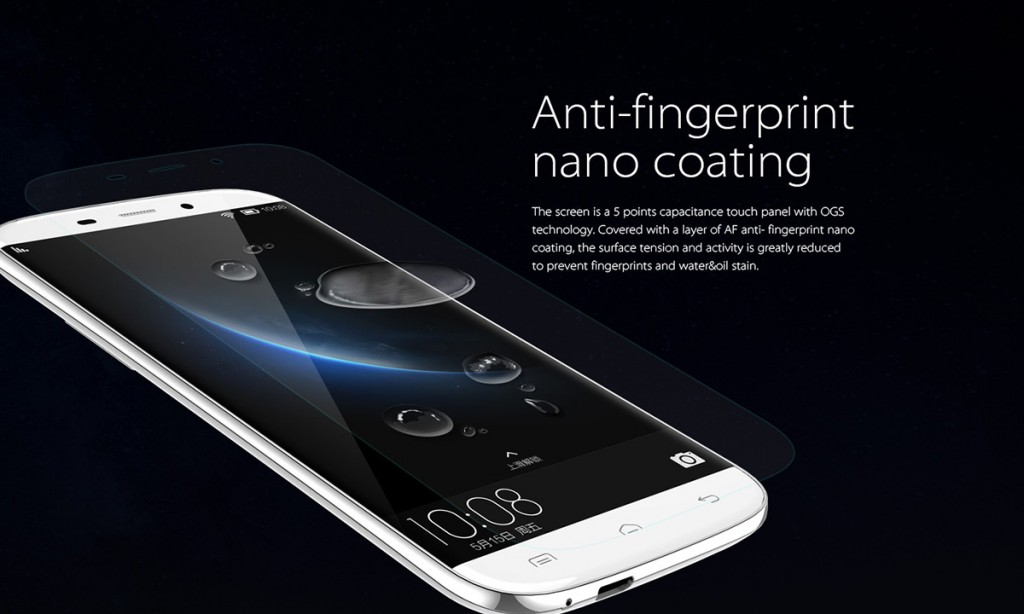 Also they have been especially concerned about making a nice smartphone both sight and touch, where raw minimalism and simplicity, hence that we have a specific grinding to the back polycarbonate getting a finished effect "piano" soft, scratch resistant at the same time.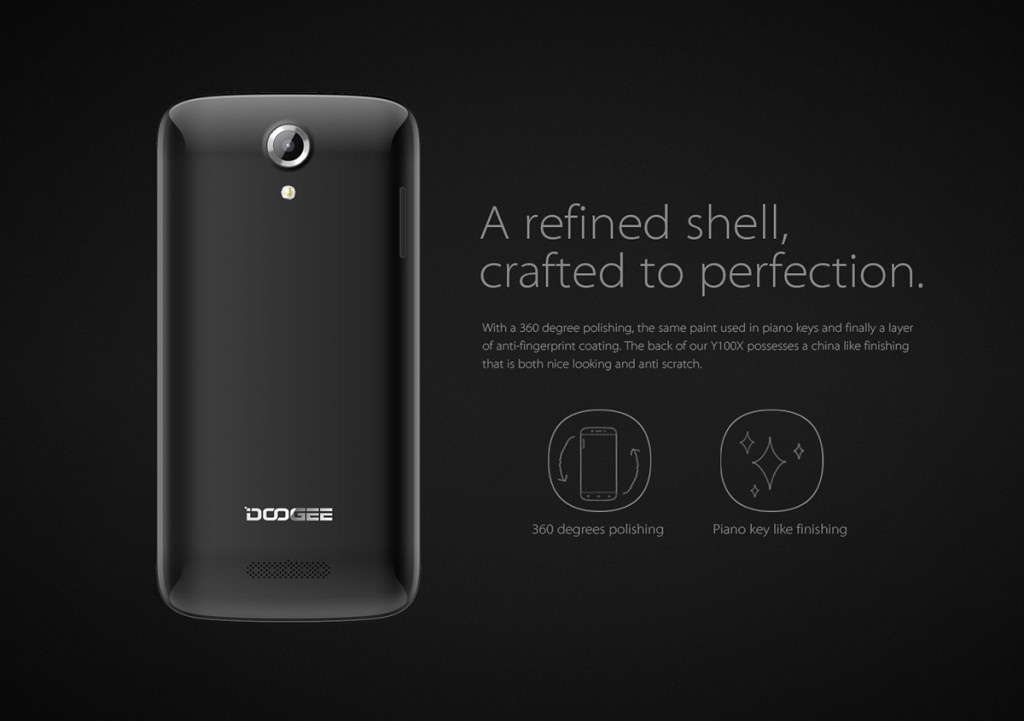 The Doogee Nova Y100X only available in black and white , thus enhancing the idea of simplicity and harmony seeking manufacturer with this model.
Nova Doogee Y100X: Photography and customizing firmware interesting.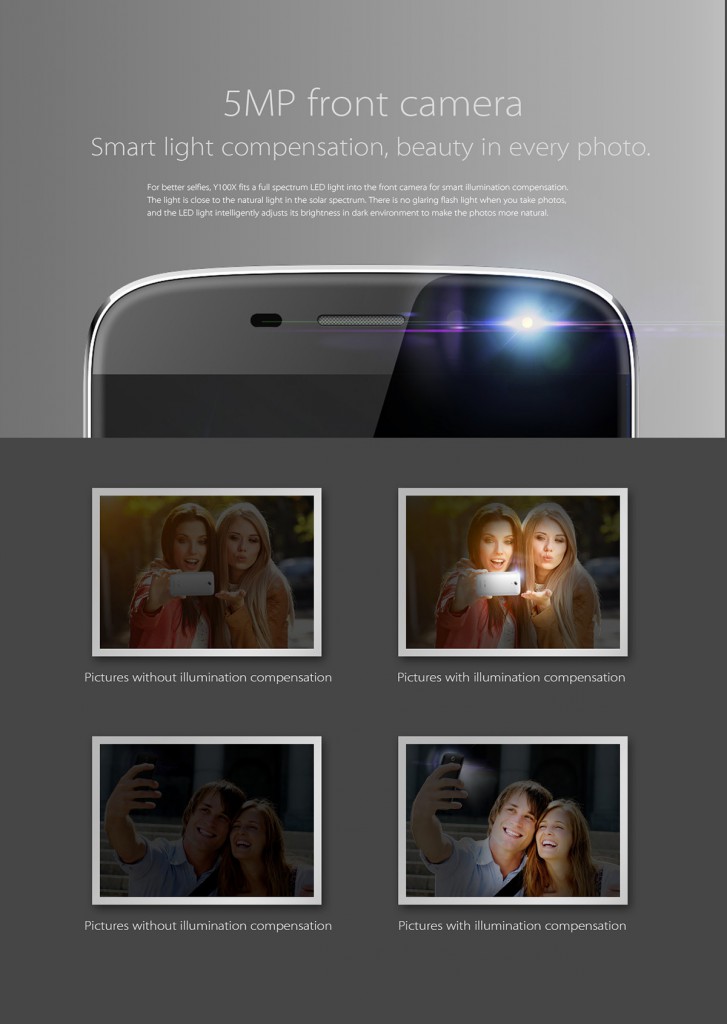 The photographic section of Nova Doogee Y100X comprises discrete 8-megapixel camera on the back , accompanied in exchange for a more than decent 5-megapixel camera to the front,making this terminal a strong candidate for a public young lover selfies.
This potential use as phone selfie is reinforced by the fact of being one of the few terminals market have flash in the front chamber. A flash also makes use of a technology called " Smart Light Compensation " , and is responsible automatically detect environmental conditions for applying the most suitable spectrum light to flash, achieving a natural and bright pictures.
At the rear, the 8 MP camera is signed by Sony with a sensor CMOS Exmor RS opening f / 2.0and Led flash. This camera also has auto focus and of course with corresponding LED flash. As we can see, a very remarkable for a terminal of this price range photographic section.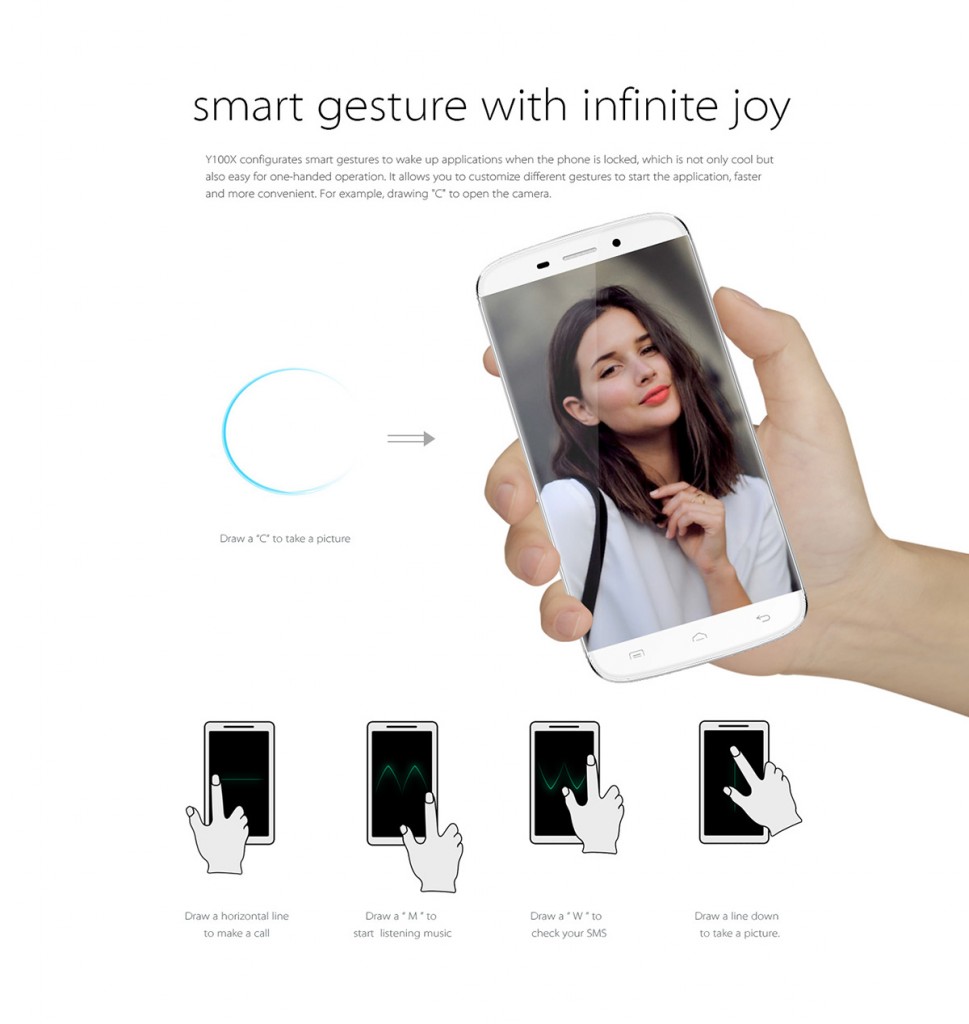 In addition Doogee has seen fit to implement some customization in the ROM installed in the Nova Doogee Y100X, adding a number of shortcuts using gestures , we can be tremendously useful as:
Writing a C to open the camera, even with the screen locked.
Make a horizontal line to make a call.
An M to start the music application.
Writing a W to open the SMS.
Turn the phone to answer a call.
Bring the smartphone to pass ear handsfree mode to normal mode.
Place the terminal face down on the table for silence.
Press twice the "home" button to lock the screen.
Drag three fingers on the screen to take a screenshot of it.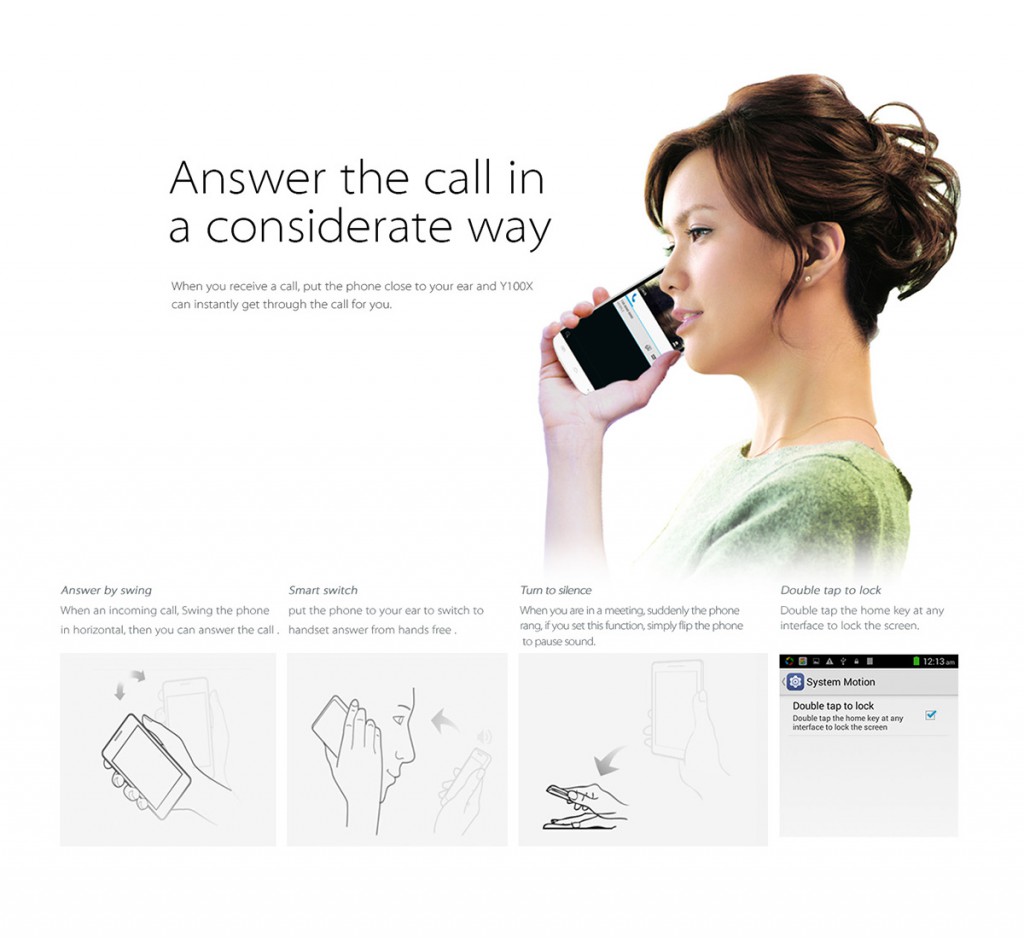 But personalization is not only directed to the gestures and shortcuts to the most basic functions of Nova Doogee Y100X, but we likewise with a specific file sharing app called"Xender" , which allows us to transfer files between compatible terminals only closer and slide the file you want to share, without it being necessary to have WIFI connection for it all with speeds up to 50 times faster than Bluetooth .
Operation of Xender is very innovative as it allows to create small wireless local networks to which anyone nearby can connect, without requiring that the terminal will share files are connected to the same network, without using our data rate at any time.
File transfer uses a system of "point to point" that achieves extremely fast file transfer with a capacity of transferring a video of nearly 100 MB in less than five seconds.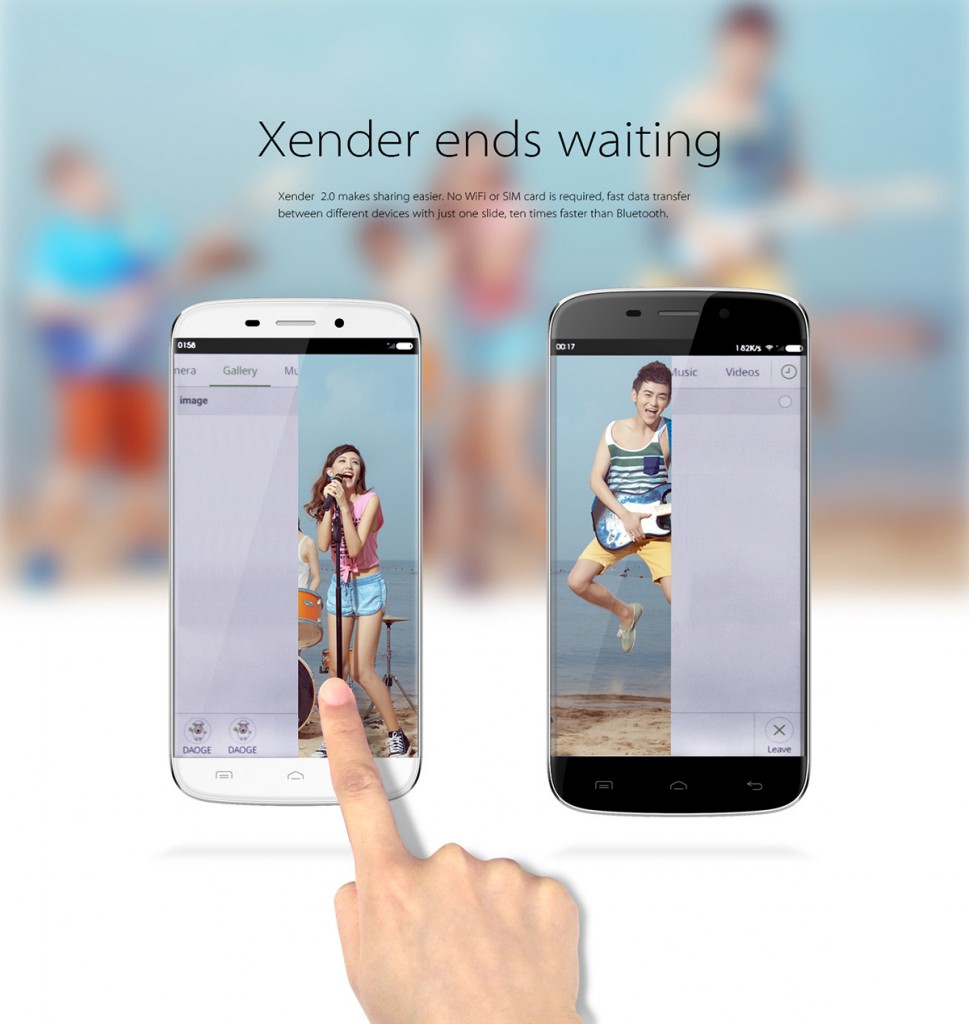 And finally, we have also a specific software that allows us to lock the apps and data they deem necessary in order to safeguard them from prying eyes.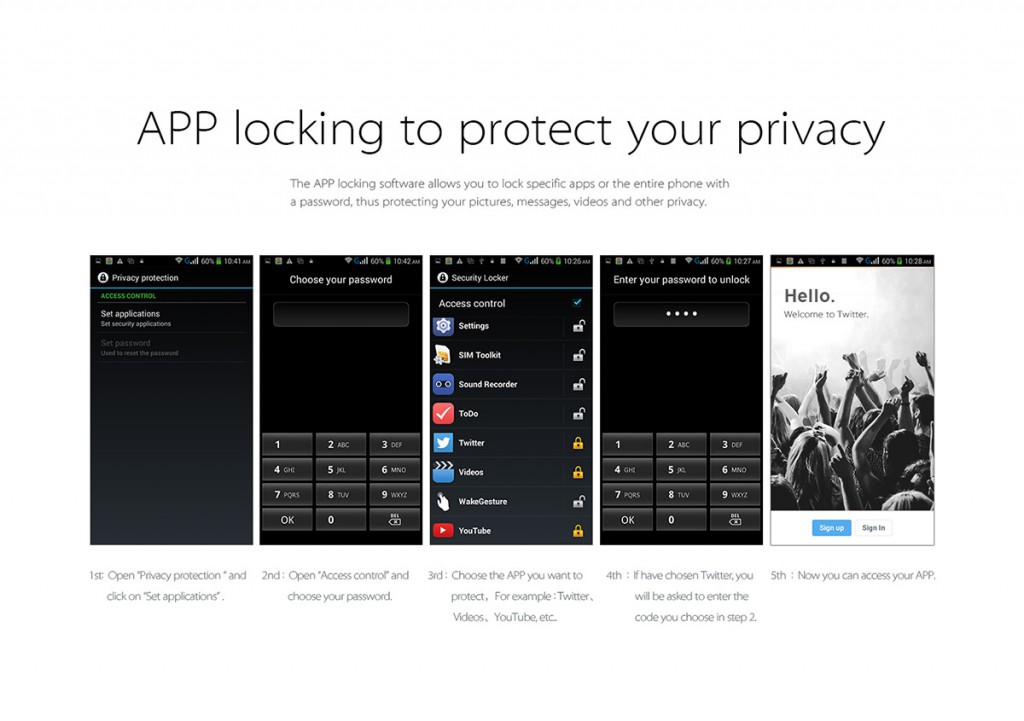 Nova Doogee Y100X: Conclusions and availability.
The truth is that the Doogee Nova Y100X love it. Rarely is a smartphone from less than 100 euros where you can appreciate an interest in taking care of every detail. And the Nova Y100X seems a very round product, which can be attributed not only have used a SoC with 4G support so as to achieve the perfect low cost smartphone.
Otherwise we have a particularly beautiful, durable and extremely ergonomic smartphone, which will delight many buyers, we have no doubt.
The Doogee Nova Y100X can be achieved by the ridiculous price of $84.99 in the Chinese GearBest web , with free shipping worldwide, within 45 days with money back guarantee and one year of repairs at no cost. An example of how well they are selling this handset can be seen in Geekvida, where today have lost their units .
Buy DOOGEE Y100X from gearbest with coupon:Y100XGB to get $10 off!click here
As you can see, a low-end terminal topped really well and I would say that's the nicest thing you can buy in the market of smartphones for this price.